Restaurant Asia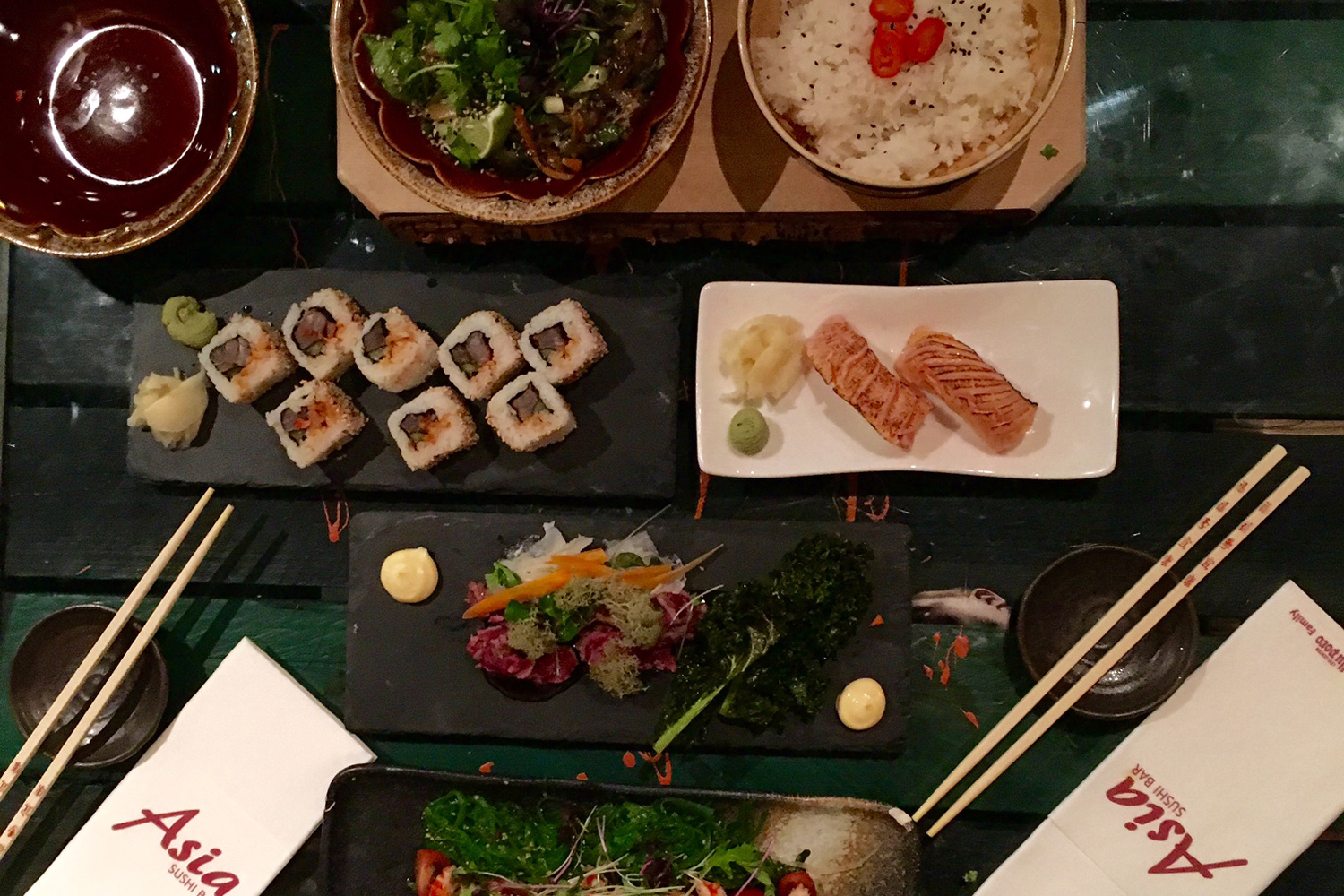 The restaurant Asia in Levin Tori offers delicious Asian tastes.
Our Japanese Chef prepares only the best sushisand á la carte. Also take-away.
The exotic surroundings and mystical decor contribute to the restaurant's unique, sensuous atmosphere. Enjoy some sushi skillfully crafted by Akira Omori or a savoury fondue with an Asian twist. Instead of a traditional fondue, we offer our customers the opportunity to make their fondue a no-holds-barred exploration of a multitude of flavours. Bring your friends and family and enjoy a night together in the best Asi­an hot-pot tradition. If you wish to only stop by and grab a quick bite, simply select some sushi straight from a glass cabinet or why not surprise your friends at the cabin with some takeaway? We are also open during lunch hours.
At Levin Tori square, in Restaurant Asia Brasserie, you are just a step away from another world. With atmospheric interior, fabulous light fittings and delicious colours, Asia Brasserie is the place to savour all the richness and warmth of Asian atmosphere.
Contact information
Asia is located in Levi Tori Square
Table restaurant Tel: +358 16 6510 600 or direct to restaurant tel: +358 40 714 8822
Opening hours
Open 2.11. – 23.12.2017
2.11.2017 18.00 – 22.00
Tuesday – Saturday 12.00 – 22.00 (Closed 24.-25.12.2017)
Open 26.12.2017 – 6.1.2018
Every day 15.00 – 23.00
Open 7.1. – 15.2.2018
Tuesday – Saturday 15.00 – 23.00
Open 16.2. – 7.4.2018
Every day 15.00 – 23.00
Open 8.4. – 30.4.2018
Tuesday – Saturday 15.00 – 23.00
Ramen 15,00 €
Ramen is a Japanese aromatic noodle soup which originates from China. Our ramen is made with vegetables, herbs, shoots, wheat noodles, egg and aromatic homemade broth.
The fillings vary daily.

Hong Kong Seafood Soup 17,00 €
Originally from the Cantonese kitchen, this soup found its way to the major cities under the name Hong Kong Seafood Soup. Our version is made with salmon, mussels, seaweed and Chinese cabbage all served with smooth mussel stock.
Dim Sun
Dim Sums are small bite size delicacies usually made by steaming or frying. By mixing them together, you can create a whole meal. And if you would like you to enjoy them the authentic way, why not to choose a cup of tea from our tea menu.
Dumplings 6,00 € / 4 pcs
Mushroom / Prawns / Duck / Pork / Chicken
Dumplings are always served 4 pcs min / flavour
Vegetable Spring Rolls 6,00 € / 4 pcs
Duck Pan Cakes Peking duck Style 6,00 € / 2 pcs
Aromatic duck, Hoi Sin Sauce and pancakes
Fried, sweet & Sour 8,00 € / 4 pcs
Deep fried tiger prawns coated with panko
Deep fried chicken "Karage Style"
Bao Bun (2 pcs) 6,00 €
Steamed bun filled with chili glazed pork belly,
cucumber and coriander
Fresh Rolls 8,00 €
Tiger prawns, Yuzu mayonaise and
namas salad wrapped in rice paper

Fried sweet potato & wasabi 6,00 €
Kimchi 5,00 €
Traditional side dish from Korean cuisine.
Perfect with a cold beer.
Lapland Raw
Appetizers made of the best Lappish ingredients with an Asian twist.
Slightly pickled white fish served with wild mushrooms 12,00 €
Fermented arctic char and mustard seeds 12,00 €
Cured fillet of reindeer served with Togarashi mayonaise and cranberries 14,00 €
Specials
Shanghai style sticky pork belly served with deep fried sweet potatoes 21,00 €

Twice cooked Five-Spice lamb with red chilies served with pumpkin and pok choi 24,00 €
Deep fried whole arctic char served with green curry, vegetables and Lappish potatoes 24,00 €
Stir & Fry
Stir Frying is a Chinese cooking technique in which ingredients
are fried in a small amount of very hot oil while being stirred in a wok.
Vegetables, mushrooms and tofu 16,00 €
Chicken with cashew nuts 18,00 €
Chicken Kung Pao and chili 18,00 €
Chicken Chow Mein served with noodels 18,00 €
Beef, vegetables and chili served with noodels 19,00 €
Beef with broccoli, spring onions and oyster sauce 19,00 €
Pork with garlic and ginger 18,00 €
Tiger prawns with coconut and chili 20,00 €
Stir fries are served with Jasmin rice unless otherwise stated.
Sweet
Ginger Crème Brûlée served with lime sorbet 9,00 €
Rice chocolate and coconut ice cream 9,00 €
Deep fried banana served with vanilla ice cream 9,00 €
Almond jelly served with marinated pineapple 9,00 €
Sushi
Grilled salmon 6,00 € / nigiri
Salmon 5,50 € / nigiri 7,00 € / sashimi
Rainbow trout roe 5,50 € / nigiri

Arctic char 6,50 € / nigiri 7,00 € / sashimi
Whitefish 6,50 € / nigiri 7,00 € / sashimi
King crab 16,00 € / nigiri
Reindeer 12,00 € / nigiri

Avocado 4,00 € / nigiri

1. Immel 15,50 €
Smoked perch, Philadelphia cheese and spring onion
2. Loimu tempura 15,50 €
Glow fried salmon and kimchi mayo
3. Teno 15,50 €
Salmon, avocado and cucumber
4. Ruija 18,00 €
King crab, chive and Philadelphia cheese
5. Rapu 16,00 €
Soft shell crab, avocado, chive and tobiko fish roe
6. Siika 17,00 €
Slightly salted whitefish, deep fried ginger and yuzu soy
7. Meri tempura 14,00 €
Shrimps, togarashi mayo and avocado
8. Rakka 16,50 €
Roast of reindeer, moss and lingonberry mayo
Sushi specials
Chirashi-sushi Lapponia 25,00 €
Salmon, white fish, glow fried salmon and arctic char served with rice, yuzu juice, soy and ginger
Oshi-sushi 6,50 €
Fresh makril & Daikon radish
Champagne
France    Taittinger Brut Reserve  85,00 € / plo
France    Mumm Cordon Rouge Brut  90,00 € / plo
France    Veuve Clicquot Brut  99,00 € / plo
France    Jeeper Grande Cüvee Chardonnay  99,00 € / plo
France    Jeeper Rose 99,00 € / plo
Sparkling Wines

Spain    Luna de Murviedro Brut   37,00 € / bottle
Italy    La Jara Organic    45,00 € / bottle
Spain    Perelada Rosado Brut 38,00 € / bottle
Chile    NVY Passion Fruit   32,00 € / bottle
Rosé
Italy    Zenato Bardolino Chiaretto Rose  37,00 € / bottle
Dessert Wines
Italy    Donna Fugata Kabir    10,20 € / 8 cl    49,00 € / bottle
New Zealand    Villa Maria Reserve Noble Riesling   66,00 € / bottle
White Wines
Argentina    Santa Julia Organica Chardonnay  34,00 € / bottle
Germany    Kalkstein Riesling   37,00 € / bottle
New Zealand     Villa Maria Private Bin Gewürztraminer   48,00 € / bottle
Germany    Deep Roots Müller-Thurgau   30,00 € / bottle
Australia    Jacob's Creek Wah  40,00 € / bottle
Spain    Alma Mistica  37,00 € / bottle
Austria     Jurtschitsch Stein Grüner Veltliner   57,00 € / bottle
Red Wines
Argentina    Santa Julia Organica Malbec  34,00 € / bottle
Australia     Jacob´s Creek Lamoon  40,00 € / bottle
Italy         Vietti Perbacco Nebbiolo   69,00 € / bottle
Austria    Meinklang Blauburgunder  47,00 € / bottle
France    Gerard Bertrand Naturalys  45,00 € / bottle