Treasure on the riverbank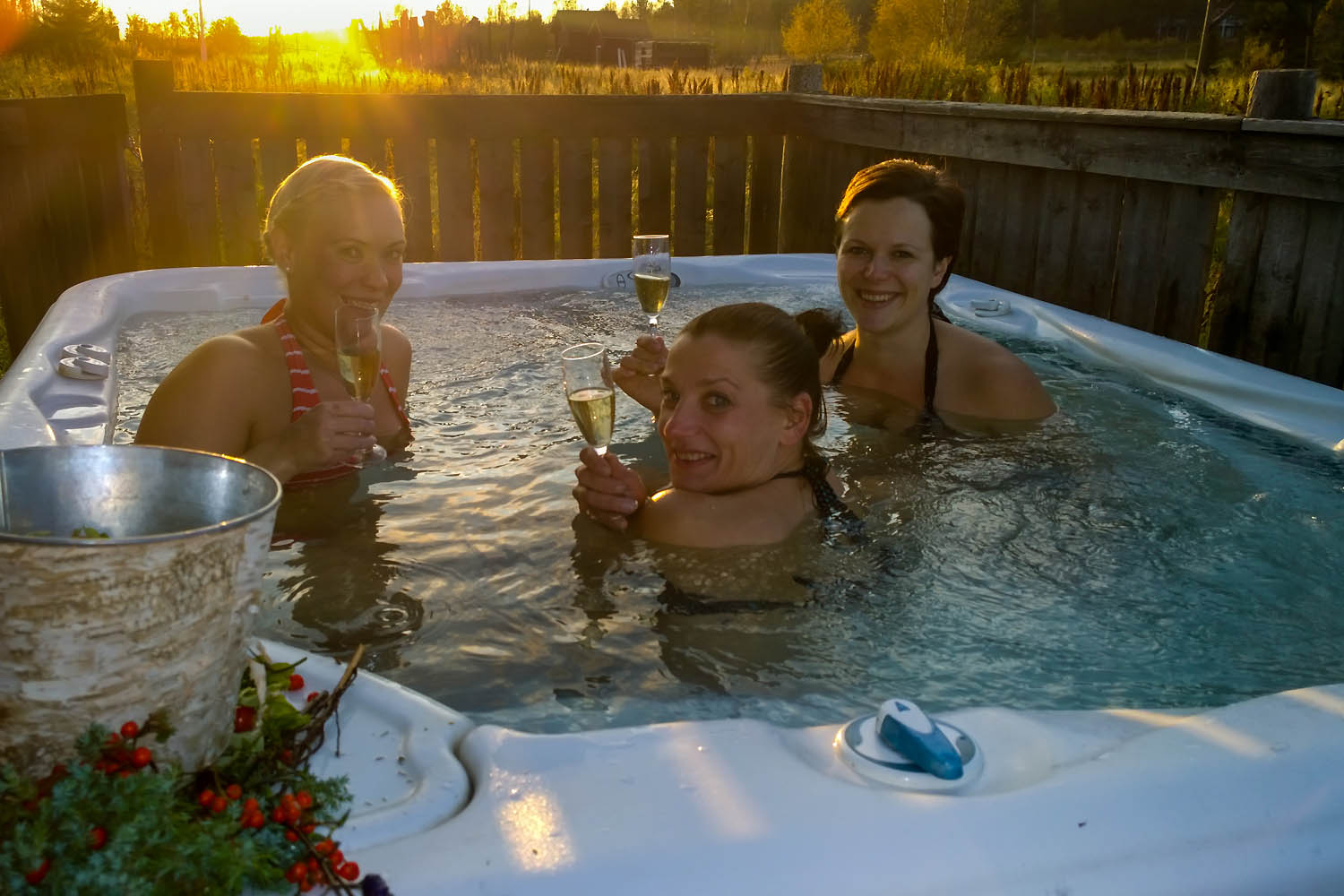 No matter if you travel to Levi with family, friends, or colleagues – it's always an equally unforgettable experience. Comfy, high-class accommodation, meeting, and dining services are offered, among others, by a "magical grandma's place". It's worth checking out!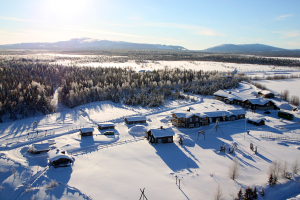 Close to Levi centre, enfolded by the enchanting Lappish countryside, lies Taivaanvalkeat. Its charming, spacious courtyard is home to a hotel, Northern Lights hut "Revontulikota", elf house "Tonttula", a lakeside sauna, and a temple.
One of a kind accommodation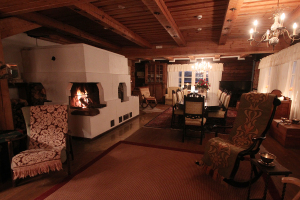 Taivaanvalkeat hotel is located in the main building of the courtyard, and was completely renovated in 2014. There are 13 luxurious rooms for 2–3 persons: 4 downstairs and 9 upstairs. Each room has its' own bathroom, and both floors have their own kitchen and sauna. This makes it possible to book even a whole floor for the use of your group!
"The renewed interior decor has been planned and finalised with great care by Mrs Päivikki Palosaari, the owner and the lady behind the whole Taivaanvalkeat concept", says Coordinator of Hullu Poro restaurant activities, Mrs Pirita Laru. The decor is distinctive, and airs cosy and comfortable atmosphere. "For example, on the walls we have an ample collection of traditional Finnish gobelins, which give a nice, exotic touch to the decor."
The big kitchen downstairs, coupled with a separate breakfast room and an elegant 120 square meter hall, make it possible to organise even bigger events at the hotel. The renewed technical building services enable e.g. fast internet access.
Northern Lights, weddings and all other unforgettable
If you want to have a true Lappish experience, head to the most exotic building on the Taivaanvalkeat ground, Northern Lights hut "Revontulikota". The two-storey hut is a perfect place to organise wonderful events and enjoy beautiful nature – and if you're lucky, the dance of colours above you. Levi's webpage Levi.fi offers a Northern Lights alert service, which will tell you when it might be a good idea to turn your head up!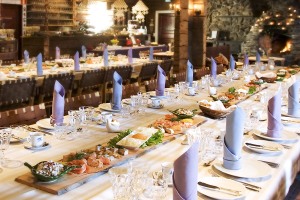 How about saying, "I do", under a magnificent starry sky? Taivaanvalkeat is a perfect place to organise a wedding party like nowhere else. In addition to the Northern Lights hut, the wedding can also take place at the Taivaanvalkeat temple's unique Lappish milieu.
There are plenty of other exotic experiences worth trying when visiting Taivaanvalkeat – everything from safari rides to dinner parties. One example of the latter is the "Heavenly feast" banquet, a delicious dinner party that you can book exclusively for your group, or take part in an open-for-all event.
Pampering bellies, bodies and souls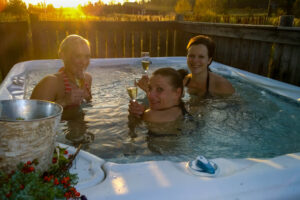 It's not only the feasts, but there are plenty of other mouth-watering experiences available at Taivaanvalkeat. The chefs of Hullu Poro restaurants are at the service of visitors when ordered, and create delicious meals from sushi to genuine, traditional Lappish food.
In the main building there is a wellness centre with a sauna and jacuzzi. The centre offers different types of wellness services, such as Lappish hot stone and herb oil massages, and facials, on request. In addition, there is a traditional lakeside sauna on the bank of the Ounasjoki River, with a possibility to take a swim in the river – or hole in the ice in the wintertime
During the Polar Night, Taivaanvalkeat courtyard is beautifully lit. You can wander around and let the snowy winter landscape take your breath away. Lappish winter is a perfect time to pause, breath in, and listen to the blissful silence.
Welcome to the house of the elves!
Near the main building there's a house, which should be of interest to all those naughty and nice. The elf house "Tonttula" is the branch office of Santa Claus and home to Levi elves. The magical house regularly welcomes the Santa himself for an inspection visit!
During the holiday season, Tonttula café is full of tastes and scents of Christmas. In the springtime it turns into a ski café that offers both delicious lunches and tasty snacks. And don't forget to visit the Tonttula gift shop for nicest souvenirs!
Silence is bliss
Taivaanvalkeat is only 8 km away from the Levi centre, and is easy to reach by car, snowmobile, or why not by cross-country skiing. Even though the centre is nearby, Taivaanvalkeat still is a haven for peace and quiet, without noise or light pollution ruining your perfect holiday.
More information and reservation tel. +358 016 6510 500 or e-mail: sales@hulluporo.fi