Northern Cowboy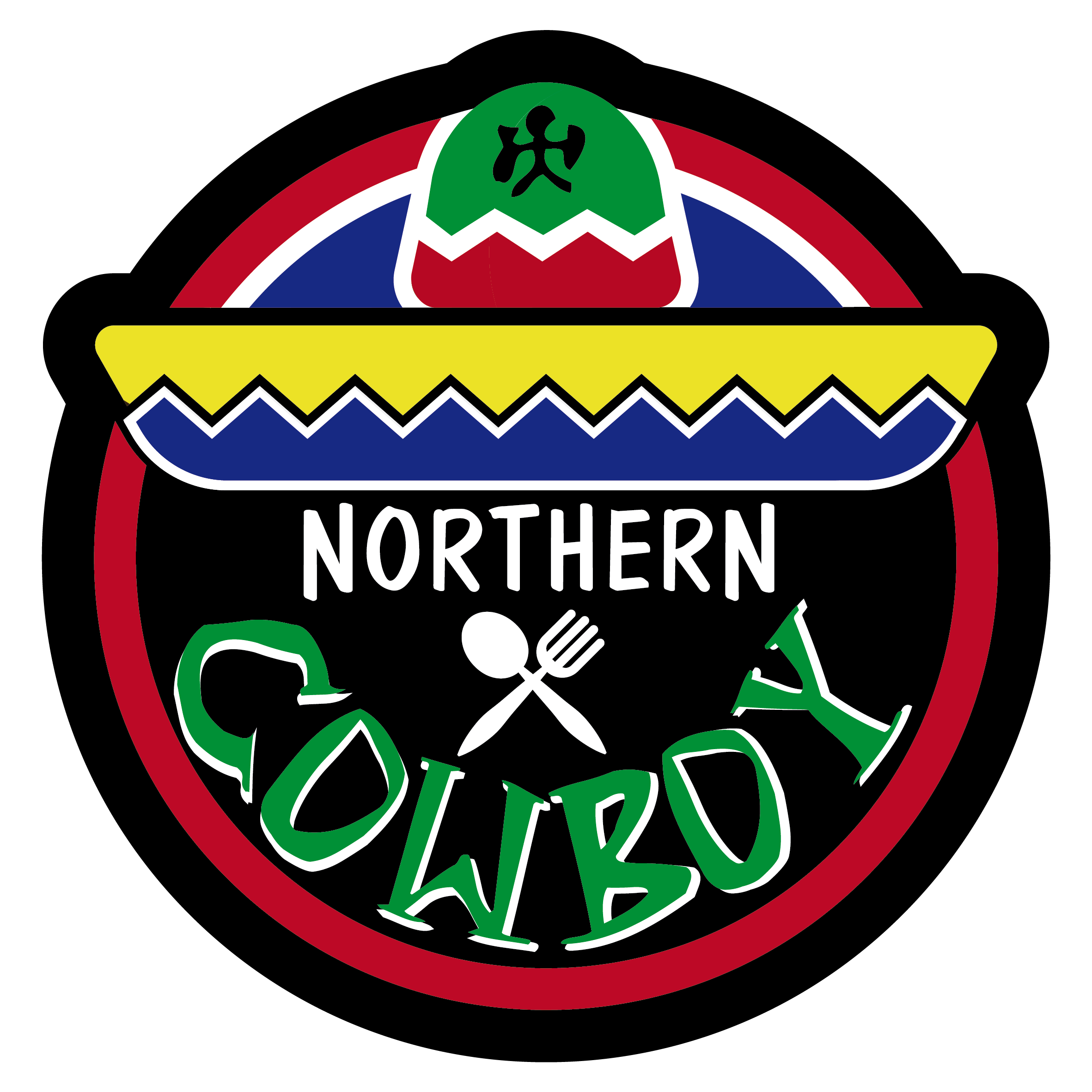 Northern Cowboy
Mexican restaurant Taqueria Northern Cowboy
Mexican cuisine is easy to love, both on a plate and in a glass. At Taqueria Northern Cowboy, you will enjoy the traditional Mexican street food classics with a Laplandic twist. Tacos, Burritos, Quesadillas, tostadas, Chimichangas and home-made nachos.
Hola amigos!
Reindeer tacos & tequila. Arctic street food & fine drinks. Cold beer & red necks.
Mexican street food with a Laplandic twist
Snack on some nachos and salsa, satiate your hunger with a hearty reindeer taco, salmon burrito, or try the savoury salt caramel churro. You can visit Cowboy not only for dinner, but also for a cocktail, a beer, a shot of tequila or sip of mezcal.
Contact
Taqueria Northern Cowboys located in Levi Tori square
Address: Torikuja, 99130 LEVI
Tel. +35840 714 8844
Torikuja, 99130 Sirkka, Suomi
Contact info
Tel. +358407148844
Opening hours
Closed
Open 19.2. – 10.4.2021
Daily klo 12.00 – 22.00
Northern cowboy fiesta sampler
Hickory smoked pork
Chipotle seasoned chicken
Pepper & onion bake
Tortillos 6 pcs
Nachos & salsa, jalapeno
Quacamole and sour cream
31,50 €
Nachos
Nachot / pico de callo  5,00 €
Nachot / cheddar 9,00 €
Nachot / smoked pork / cheddar / créme fraiche 15,00 €
with chicken or beef +2,00 €
Dip for nachos: 1,50 €
Guacamole / créme fraiche / cheddar
Huevos Rancheros – Mexican Breakfast
Chicken & Avocado 16,00 €
Pork & Smoky apple bbq 16,00 €
Vegetarian 16,00 €
Served with corn tortilla topped with vlack beans, smoky tomato salsa, cheddar cheese and fried egg
Burrito
Lentils / Beans / Kale / Rice   14,00 €
Smoked Salmon / guacamole / Red Onion 17,00 €
Chicken / Avocado / Red Onion  15,00 €
Chuck Roll Beef / Jalapelo   16,00 €
Reindeer / Lingonberry / Pickled Cucumber  17,00 €
Burritos served with lentils, kale, rice, marinated and pickeld red onion
Quesadillas
Black Bean Bake / Cashew Sour Cream / Vegan Cheese 13,00 €
Chicken / Bbq / Chipotle / Cheese  14,00 €
Chuck Roll Beef / Jalapeno / Cheese 15,00 €
Quesadillas served with salsa verde, spring onion and crème fraiche
Soft Tacos 3 pcs
Black Bean Bake / Chili / Cashew Sour Cream 12,00 €
Slightly Smoked Salmon / Spruce Pud / Dill  / Lime  14,00 €
Chicken / Chipotle / Avocado / Salsa Verde 14,00 €
Chuck Roll Beef / Cheese / Jalapelo  15,00 €
Reindeer / Lingonberry / Pickled Cucumber  16,00 €
Churros
Cinnamon & sugar 5,00 €
Milk chocolate 6,00 €
Salted caramel  6,00 €
Ice cream
Vanilla 3,00 €
Salty caramel 3,00 €
Mango jalapeno  3,00 €
Mojito sorbet 3,00 €
Red wines
Jack&Gina Cabernet Sauvignon, Chile 6,40 € / 16 cl   20,00 € / 50 cl    40,00 € / 1 l
Kendall-Jackson Vintner's Reserve Zinfandel 74,00 € / 75 cl
Zinfandel 82%, Petit Sirah 17%, Syrah 1%. USA
CVNE Crianza 42,00 € / 75 cl
Tempranillo 85%, Garnacha Tinto & Mazuelo 15%. Spain, Rioja
Tempus Two Varietal Shiraz 43,00 € / 75 cl
Australia
White wines
Jack & Gina Chenin Blanc, South- Africa 6,40 € / 16 cl   20,00 € / 50 cl   40,00 € / 1 l
Kendall-Jackson Vintner's Reserve Chardonnay 73,00€ / 75cl
USA
Abadia Albariño 50,00 € / 75cl
Albariño. Spain, Riax Baixas
Tempus Two Varietal Chardonnay 43,00 € / 75 cl
Australia
Sparkling wines
Martini Rose 25,00 € / 0,75l
Italy
Cava Jaume Serra Organic Brut 37,00 € / 0,75l
Macabeo. Spain
Zonin Prosecco piccolo 20 cl 13,00 € / 0,20l
Italy
Val d´Oca Millesimato Prosecco Extra Dry 37,00 € / 0,75l
Italy
Champagne
Charles Heidsieck Brut Réserve 90,00 € / 0,75l
France