Restaurant Sapuska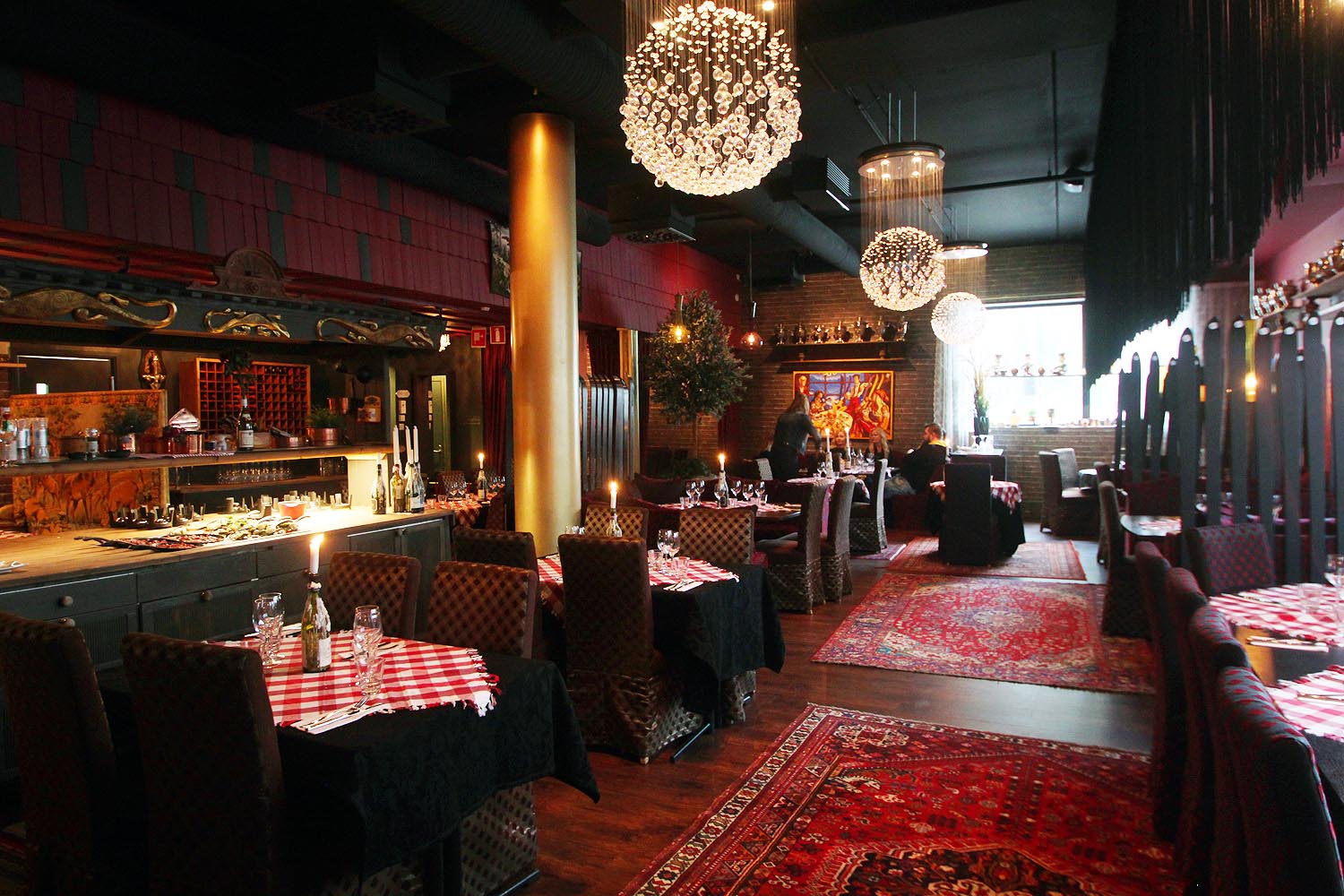 Tastes from the Alps, delicious fondues and charcoal grilled meats
Fondue & Grill. Social dining. Shared flavours. Quality wines and cocktails.
The renewed Restaurant Sapuska takes you on a trip around the Alps. The Restaurant is located in the heart of Levi. The restaurant offers you Swiss and Austrian delicacies like tasty fondues and charcoal grilled meats.
Contact information
Sapuska is located in Levin Tori Square Building Loimu.
Address: Hiihtäjänkuja 10 99130 Levi
Tel. +358 16 6510 600 or Tel. (during opening hours) +358 407148866
Opening hours
Closed
Fondue menu
Charcuterie
Paté and cold cuts from our charcuterie cabinet served
with pickle and sour dough bread
Fondues
Two steaming post: one filled with melt cheese,
one filled with aromatic meat consomme.
Fondues are served with beef and lamb fillets, Sapuskas salad, vegetables,
air dried ham, fries, aioli, Bearnaise sauce and sour dough bread.
For dessert lingonberry parfait
Menu 55,00 € /2 persons
---
Starters
Root vegetable "carpaccio" 14,00 €
Served with root vegetable crisps, sorel, truffle hummus and sea weed

Langoustine chowder 18,00 € / 20,00 €
Creamy langoustine soup served with langoustine tails, dill, fennel and Icelandic wasabi

Pil Pil Ravut (L) 16,00 €
Pil Pil prawns in garlic butter served with lime aioli

Rillette (L) 17,00 €
Rillette made with wild hare, moose, foie gras and wild boar served with sorel, root vegetable crisps and blackcurrant from Taivaanvalkeat

Escargots A'la Sapuska (L) 15,00 €
Garlic Escargots gratinated with Roquefort cheese served with sour dough bread

Lé Salad (VL) 17,00 € / 19,00 €
Salad made with deep fried quail legs, Mousseline-sauce and crispy salad leaves

Charcuterie (L) 19,00 €
Paté and cold cuts from our charcuterie cabinet served with pickle and sour dough bread

SAPUSKA'S FONDUES

Our fondues are made for min. 2 persons.
Cheese Fondue 19,00 € / person
We recommend our Cheese fondue as a starter.
Cheese fondue is served with vegetables and sour dough bread.
Fondue Chinoise 29,00 € / person
Beef and lamb (New Zealand) fillets to cook tender in our meat broth.
Served with fries, salad, aioli, Béarnaise sauce and vegetables.

MAIN COURSES
Fermented Broad Bean croquettes served with lentils, pumpkin, roasted nuts and smoked aubergine  25,00 €
Cod fried with brown butter served with grilled gem salad and saffron potatoes 29,00 €
Grilled half lobster served with Sapuska´s salad, fries and black aioli 33,00 €
"Coq Au Vin" Àla Sapuska.
Grilled roast of chicken served with baby onions, mushrooms, wine sauce and deep fried potato 22,00 €

From Charcoal Oven
Pork tomahawk 29,00 €
Icelandic Lamb shank 29,00 €
New York Pastrami 200 gr 35,00 €
Marble Steak 150gr / 250 gr 28,00 € / 35,00 €
Dry Aged beef sirloin 300 gr 46,00 €
Grilled meats are served with Red Wine Sauce and Spiced Butter.
As a side dish You can choose between Green Salad or Fried Potatoes.
Our raw meat comes from Finland, Iceland and New Zealand.

DESSERTS
Créme brulee (L,G) 12,00 €
Créme Brulee served with fresh raspberries
Pavlova (L,G) 12,00 €
Pavlova served with lemon curd, blueberry sorbet and liquorice
Chocolate fondant served with vanilla ice cream  12,00 €
Chocolate fondue 16,00 €
Fresh fruits, marshmallows and almond cake to dip
Ice cream & Sorbet 3,00 € / pcs
Chocolate
Mint chocolate
Strawberry
Vanilla
Apple & oat (vegan option)
Raspberry sorbet
CHAMPAGNE


Charles Heidsieck Brut Réserve 14,40 € / 12 cl  90,00 € / bottle
Mumm Cordon Rouge Brut 90,00 €/bottle
Jeeper Grand Rosé 99,00 €/ bottle
Jeeper Grande Réserve Blanc de Blancs Brut 99,00 €/ bottle
Taittinger Comtes De Champpagne Blanc de Blancs Brut 235,00 €/ bottle

Dom Pérignon Champagne Brut 260,00 €/ bottle
SPARKLING WINES


Jaume Serra Organic Cava Brut, Spain 6,00 € / 12 cl  37,00 € /bottle
Macabeo
Val D'Oca Prosecco Extra dry Argento 6,00 €  / 12 cl  37,00 €/ bottle
Italy
Martini Brut, Italy 40,00 €/ bottle
Chardonnay, Glera
Perelada Rosado Cava Brut, Spain 45,00 €/ bottle
Garnatxa, Pinot Noir, Trepat
Zenato Lugana Metodo Classico Brut, Italy 65,00 €/ bottle
Trebbiano di Lugana

ROSÉ WINE Bottle
Bardolino Chiaretto Rosé, Zenato, Veneto IGT 39,00 €
Corvina, Rondinella, Merlot
DESSERT WINES & OTHER WINES  8 cl
Banfi Rosa Regale Brachetto d´Acqui, Italy 7,05 €
Brachetto d´Acqui
Kabir, Donna Fugata, Moscato di Pantelleria, Italy 11,75 €
Zibibbo
Villa Maria Reserve Noble Riesling, New Zeland 14,40 €
Riesling
Lakka Fortified wine, Finland 5,45 €
Cloudberry
Harveys Bristol Cream Sherry, Spain 6,00 €
Palomino, Pedro Ximénez
WHITE WINES BOTTELS

France
Bourgogne Petit Chablis, William Fevre 63,00 €
Chardonnay
Chablis Grand Cru Valmur, Jean Collet & Fils 166,00 €
Chardonnay
Loire Comte Lafond Sancerre, De Ladoucette 85,00 €
Sauvignon Blanc
Alsace Pfaff Pinot Gris, La Cave des Vignerons de Pfaffenheim 48,00 €
Pinot Gris
Gisselbrecht Riesling, Willy Grisselbrecht 47,00 €
Riesling

Austria
Biohof Pratsch Grûner Veltliner, Weinviertel 55,00 €
Grûner Veltliner

Italy
Lugana San Benedetto, Zenato, Veneto 51,00 €
Trebbiano di Lugana
Le Rime, Castello Banfi, Toscana 39,00 €
Chadonnay, Pinot Grigio

Spain
Santiago Ruiz, Bodegas LAN, DO Rias Baixas 50,00 €
Albariño

Germany
Weingut Anselmann Weissburgunder spätlese Trocken, Anselmann, Pfalz 38,00 €
Weissburgunder
Riesling vom Kalkstein, Reh Kenderman, Qualitätswein Pfalz 44,00 €
Riesling

New Zealand
Villa Maria Private Bin Organic Sauvignon Blanc, Mallborough 46,00 €
Sauvignon Blanc

United States
Chateau Ste Michelle Riesling, Ste Michelle Wine Estate, Columbia Valley 43,00 €
Riesling
Irony Monterrey Chardonnay, Monterrey, California 59,00 €
Chardonnay

RED WINES BOTTLES

France
Rhone Châteauneuf-du-Pape rouge, Xavier 89,00 €
Grenache Noir, Mourvédre, Syrah
Guigal Grozes-Hermitage, Etienne Guigal 67,00 €
Syrah
Bourgogne Retour Des Flanders Vieilles Vignes, De Ladoucette 64,00 €
Pinot Noir
Languedoc Paul Mas Cabernet Sauvignon, Chateau Paul Mas 44,00 €
Cabernet Sauvignon

Italy
Zenato Veneto Rosso Parziale Appassiamento, Veneto 38,00 €
Corvina Veronese 40%, Merlot 40%, Cabernet Sauvignon 20%
Col di Sasso, Castello Banfi, IGT Toscana 39,00 €
Sangiovese, Cabernet Sauvignon, Merlot
Vietti Perbacco Nebbiolo, Piemonte 78,00 €
Nebbiolo
Zenato Amarone Della Valpolicella Classico, Veneto 110,00 €
Corvina Veronese, Rondinella, Oselata & Croatina
Antinori Solaia, Antinori, IGT Toscana 290,00 €
Cabernet Sauvignon 75%, Sangiovese 20%, Cabernet Franc 5%

Spain
Torres Ibericos 47,00 €
Temparanillo
Lan Reserva 2011 59,00 €
Tempranillo 92%, Graciano 8%

Austria
Biohof Pratsch Zweigelt Kittle, Hohenruppersdorf 65,00 €
Zweigelt

Argentina
Norton Reserva Malbec, Bodega Norton, Mendoza 54,00 €
Malbec

Chile
Don Melchor, Concha y Toro, Puenta Alto 110,00 €
Cabernet Sauvignon

New Zealand
Villa Maria Private Bin Pinot Noir, Villa Maria Estate, Malborough 50,00 €
Pinot Noir

United States
3 Finger Jack Old Vine Zinfandel, Delicato Family Vineyards 64,00 €
Zinfandel
You can use the reservations form below to book a table in our restaurant. Reservation will be valid when we have confirmed it to Your E-mail.
Kartta