Restaurant Ämmilä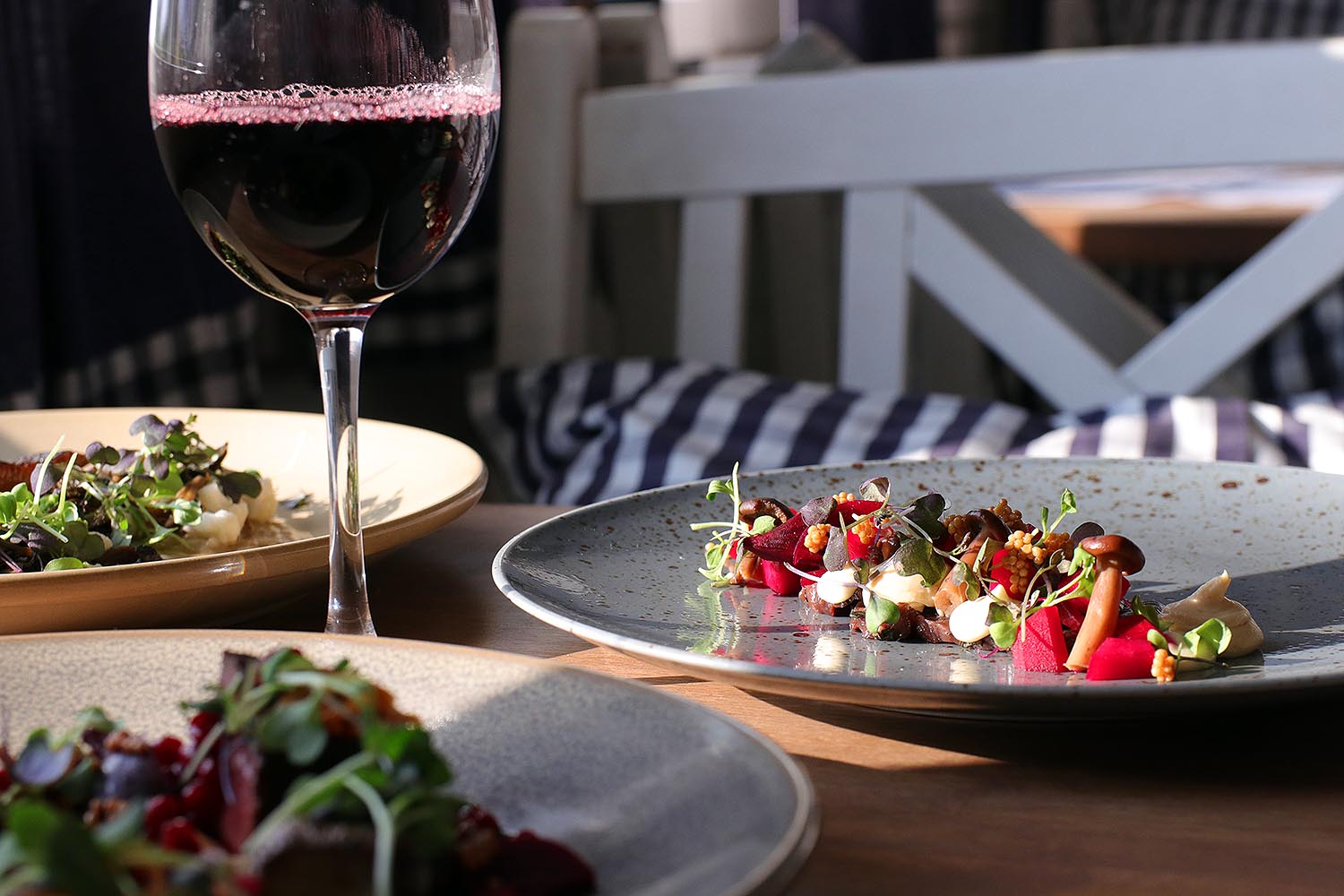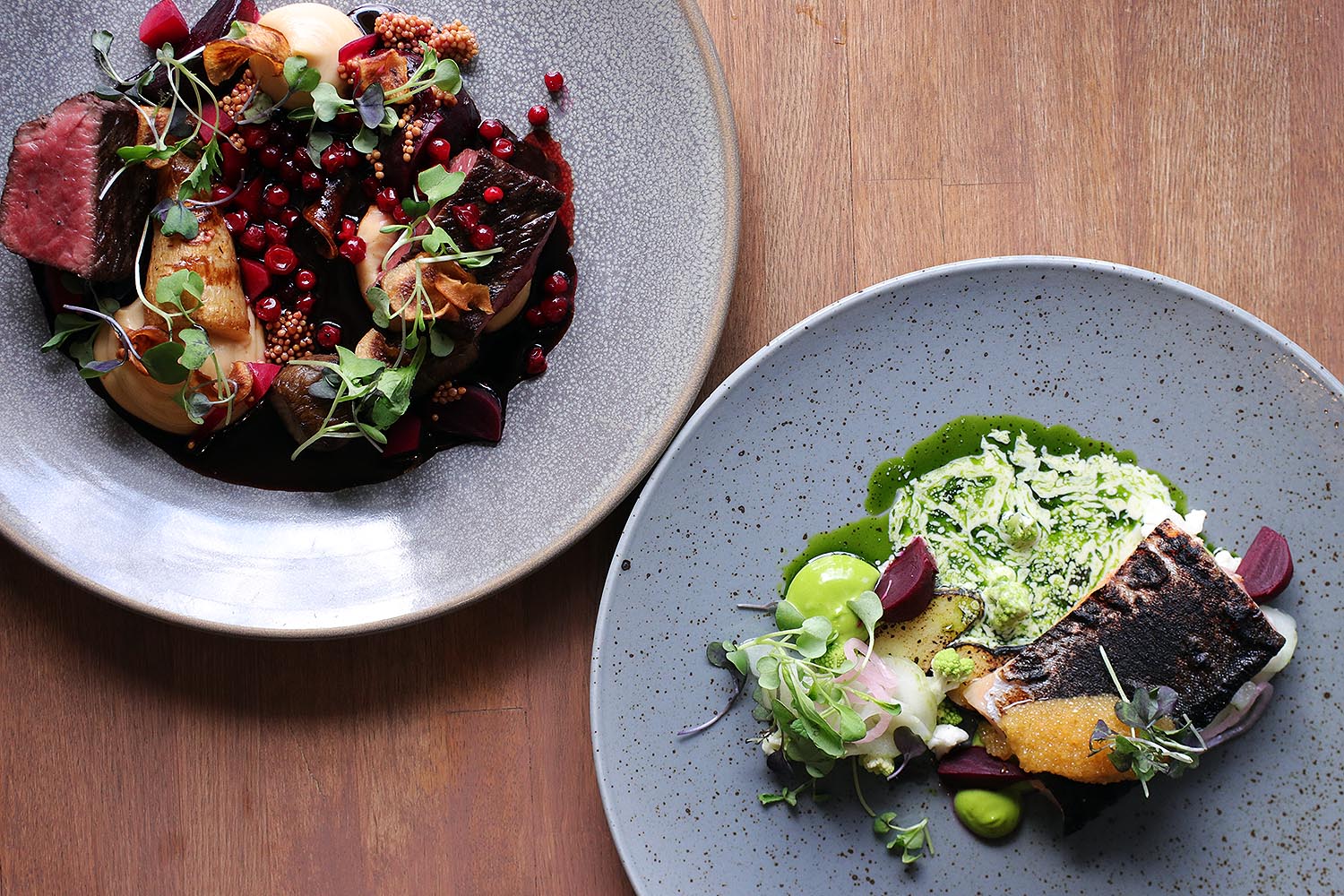 Restaurant Ämmilä – Traditional local food with a modern touch
Hand made lappish food. Modern traditional cuisine. Quality wines.
Ämmilä opened in 2007, and ever since the restaurant has become renowned for its fair and honest Lapland á la carte food. The basis of the up-to-date á la carte menu is the guaranteed pure and excellent ingredients from local producers. One of the house specialities is the Pork Feast. The portion is served in a hot cast-iron steak pan with domestic canola-fed pork prepared in several ways.
The Ämmilä Lapland buffet lunch on Sundays is the most anticipated part of the day for the many visitors to Levi.
---
Lunch Mon – Sat from 11 to 15. Price 15 €
Lapland buffet Sundays from 11.00 to 15.00  Price 19 €
Starters: sumptuous salad buffet, bread and spreads.
Main course: fried game, Kammi reindeer sausage and salmon from the buffet.
Dessert: bilberry pie, vanilla sauce and sweetened Lappish berry soup with whipped cream.
Served when the restaurant is open. Check opening hours below.
---
Contact information
Ravintola Ämmilä
Rakkavaarantie 5, 99130 Levi
Tel. +358 16 6510 600 or Tel. (during opening hours) +358407148894
Opening hours
Closed
STARTERS

Salad made with crispy leafs and shoots, roasted nuts, semi dried cherry tomatoes and raspberry vinaigrette 10,00 €
Soup made with roasted Jerusalem artichokes served with Puikula-potato and Västerbotten Cheese- gnocchis and crispy cabbage 15,00 €
Grilled Arctic Char served with roasted Puikula potato, buttermilk, dill and white fish roe 15,00 €
Lightly salted roast of a reindeer served with autumns roots prepared in many ways, pickled wild mushrooms and juniper mayonnaise 15,00 €


Reindeer made in two ways; Croquette and ragú served with lingonberries and pickled shallot onion 16,00 €
MAIN COURSES

Roasted cauliflower served with cauliflower puree and nut vinaigrette 26,00 €
Pan fried Arctic Char served with King Crab risotto, pickled crab and salty cress 29,00 €
Fish of the day. Ask about today's fresh catch  27,00 €
Pepper steak served with crushed potatoes, pepper sauce and beans cooked with smoked lard 35,00 €
Beef sirloin served with smoked reindeer soft cheese and potato fries 28,00 €
Pan fried breast of Snow Grouse and roasted fillet of reindeer. Served with celeriac cooked in salt crust, beetroot, potato puree and dark rosemary sauce 38,00 €
Sautéed reindeer served with Puikula- potato mash,  lingonberries and pickled cucumber 28,00 €
Over cooked reindeer shank served with root vegetable and potato mash and dark lingonberry sauce 30,00 €
Ämmilä's Snack Special

BLINI 21,00 €
Two traditional buck wheat blinis served with white fish roe, sour cream and onion

ÄMMILÄ'S CHICKEN SALAD 18,00 € 
Salad made with grilled chicken breast, blood orange, roasted almonds, rucola and feta cheese

Elk sausages served with Lappish potatoes, beetroot, onion and forest mayonnaise 16,00 €
DESSERTS
Roasted Lappish grains, cinnamon ice cream, milk caramel and lingonberries 12,00 €
Buttermilk pannacotta served with blueberries and roasted white chocolate  10,00 €
Chocolate cake served with vanilla ice cream and lingonberries 11,00 €
Lappish cheese served with cloudberries and brown sugar cream 12,00 €
Ice cream 3,00 € / pcs
Chocolate, Vanilla, Strawberry, Oat & caramel (vegan), rhubarb Sorbet
WHITE WINES
France
Bourgogne Regnard Chablis Saint Pierre, De Ladoucette 78,00 €
Chardonnay
Bourgogne Chablis 1er Cote de Lechet, Daniel-Etienne Defaix 138,00 €
Chardonnay
Loire
Comte Lafond Sancerre, De Ladoucette 85,00 €
Sauvignon Blanc

Alsace
Pfaff Pinot Gris, La Cave des Vignerons de Pfaffenheim 48,00 €
Pinot Gris

Austria
Jurtschitsch Grüner Veltliner Stein, Kamptal, Niederösterreich 59,00 €
Grüner Veltliner

Luxembourg
Rivaner Premier cru Remich Primeberg 2017, Desom, Mosel 51,00 €
Rivaner

Italy
Lugana Riserva Sergio Zenato, Zenato, Veneto 84,00 €
Trebbiano Di Lugana

Spain
Mesta Organic Verdejo, Bodegas Fontana / DO Ucles 38,00 €
Verdejo

Santiago Ruiz, Bodegas LAN, DO Rias Baixas 50,00 €
Albariño

Germany
Dr. Loosen Dr. L Riesling, Dr. Loosen, Mosel-Saar-Ruwer 48,00 €
Riesling
New Zealand
Villa Maria Private Bin Organic Sauvignon Blanc, Malborough 46,00 €
Sauvignon Blanc

Villa Maria Cellar Selection Riesling, Malborough 54,00 €
Riesling

United States Chateau Ste Michelle Riesling, Ste Michelle Wine Estate, Columbia Valley 43,00 €
Riesling

Irony Monterrey Chardonnay 59,00 €
Chardonnay
RED WINES
France
Rhone Guigal Grozes-Hermitage, Etienne Guigal 67,00 €
Syrah
Châteauneuf-du-Pape Rouge, Xavier 89,00 €
Grenache Noir, Mourvèdre, Syrah
Languedoc Paul Mas Cabernet Sauvignon 44,00 €
Cabernet Sauvignon
Italy
Col di Sasso, Castello Banfi, IGT Toscana 39,00 €
Sangiovese, Cabernet Sauvignon, Merlot

Tommasi Le Prunée Merlot, Tommasi, IGT Delle Venezie 43,00 €
Merlot
Velluto Appassimento, Famiglia Zonin, Veneto 45,00 €
Dried Corvina, Corvinone, Rondinella
Zenato Ripassa Valpolicella Superiore, Zenato, Veneto 62,00 €
Corvina Veronese, Rondinella, Oseleta & Croatina
Tommasi Amarone, Della Valpolicella Classico, Tommasi, Veneto 110,00 €
Corvina Veronese, Corvinone, Oseleta, Rondinella
Gaja Ca´Marcanda, Angelo Gaja, Tuscany 230,00 €
Merlot, Cabernet Sauvignon, Cabernet Franc
Spain
Mesta Organic Tempranillo, Bodegas Fontana / DO Ucles 38,00 €
Tempranillo
Lan Gran Reserva, Bodegas Lan, Rioja 69,00 €
Tempranillo, Mazuelo, Garnacha

Torres Mas La Plana, Catalonia, DO Penedes 99,00 €
Cabernet Sauvignon

Termanthia, Bodega Numanthia, Toro 250,00 €
Tinta de Toro
Argentina
Norton Reserva Malbec, Bodega Norton, Mendoza 54,00 €
Malbec

Chile
Don Melchor, Concha y Toro, Puento Alto 110,00 €
Cabernet Sauvignon
Ocio, Cono Sur, Casablanca Valley 97,00 €
Pinot Noir
New Zealand
Villa Maria Private Bin Pinot Noir, Villa Maria Estate, Malborough 50,00 €
Pinot Noir
United States
3 Finger Jack Old Vine Zinfandel, Delicato Family Vineyards 64,00 €
Zinfandel
ROSÈ WINE
Italy Bardolino Chiaretto Rose, Zenato, Veneto IGT 37,00 € / btl
Corvina, Rondinella, Merlot
DESSERT WINES
Italy Recioto Della Valpolicella Classico, Zenato 12,00 € / 8 cl   75,00 € / btl
Italy Rosa Regale Brachetto d'Aqui, Banfi 7,05 € / 8 cl  33,00 € / btl
Austria Prestige Trockenbeerenauslese, Lenz Moser 11,20 € 52,00 € / btl
Canada Red Leaf Vidal Icewine, Pillitteri Estate Winery 55,00 € / btl
CHAMPAGNE
Mumm Cordon Rouge Brut 90,00 € / btl
Charles Heidsieck Réserve Brut 14,50 € / 12 cl   90,00 € / btl
Jeeper Grande Réserve Blanc de Blancs Brut 99,00 € / btl
Jeeper Grand Rosé 99,00 € / btl
Taittinger Comtes De Champagne Blanc de Blancs Brut 235,00 € /btl
Dom Pérignon 260,00 € / btl

SPARKLING WINES
Spain Jaume Serra Organic Cava Brut 6,00 € / 12 cl   37,00 € /btl
Italy Val d'Oca Millesimato Prosecco Extra Dry 2017 6,00 € / 12 cl    37,00 € / btl
Spain Perelada Rosado Cava Brut 38,00 € / btl
Italy Martini Brut 40,00 € / btl
Italy Zenato Lugana Brut Metodo Classico 65,00 € / btl
You can use the reservations form below to book a table in our restaurant. Reservation will be valid when we have confirmed it to Your E-mail.
Kartta