Restaurant Ämmilä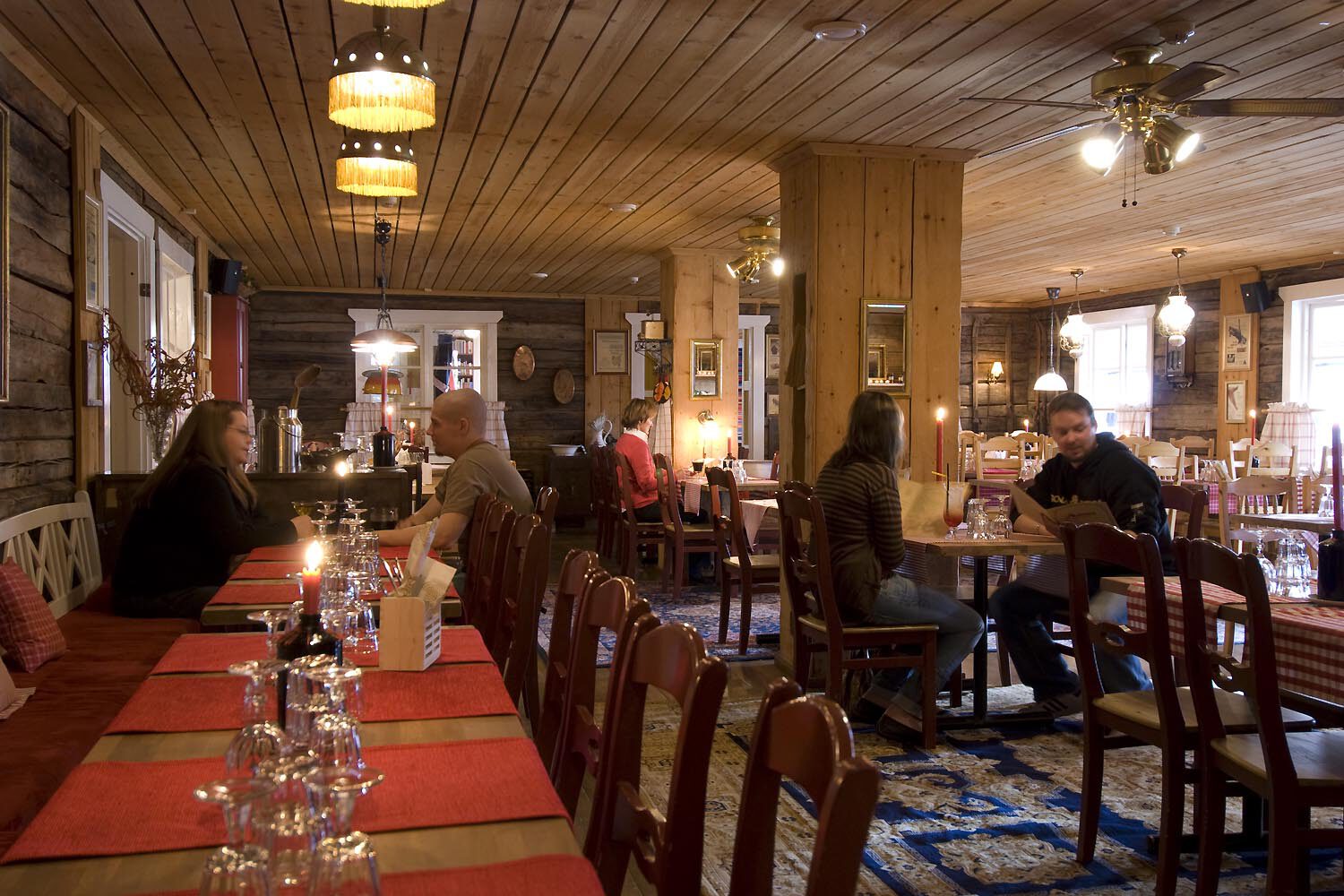 Restaurant Ämmilä – Traditional local food with a modern touch
Hand made lappish food. Modern traditional cuisine. Quality wines.
Ämmilä of Hullu Poro opened in 2007, and ever since the restaurant has become renowned for its fair and honest Lapland á la carte food. The basis of the up-to-date á la carte menu is the guaranteed pure and excellent ingredients from local producers. One of the house specialities is the Pork Feast. The portion is served in a hot cast-iron steak pan with domestic canola-fed pork prepared in several ways.
While dining, the children may visit the play corner, so the adults get time to enjoy one another's company.
The Ämmilä Lapland buffet lunch on Sundays is the most anticipated part of the day for the many visitors to Levi.
---
Lunch and Lapland buffet will serve next time on autumn 2019.
Lunch Mon – Sat from 11 to 15. Price 15€

Lapland buffet Sun from 11 to 15. Price 19 €
Starters: sumptuous salad buffet, bread and spreads.
Main course: fried game, Kammi reindeer sausage and salmon from the buffet.
Dessert: bilberry pie, vanilla sauce and sweetened Lappish berry soup with whipped cream.
Served when the restaurant is open. Check opening hours below.
---
Contact information
Ravintola Ämmilä
Rakkavaarantie 5, 99130 Levi
Tel. +358166510610
Table reservation

Tel. +358166510500


Opening hours
Open 22.9. – 7.11.2019
À la carte daily 3:00 pm – 11:00 pm
Open 8.11.2019 – 30.4.2020
Lunch daily 11:00 am – 3:00 pm
À la carte daily 3:00 pm – 11:00 pm
Lapland Buffet on Sundays 11:00 am – 3:00 pm
 Starters

Salad made with crispy leafs and shoots, roasted nuts, semi dried cherry tomatoes and raspberry vinaigrette 10,00 €
Soup made with roasted Jerusalem artichokes served with Puikula-potato and Västerbotten Cheese- gnocchis and crispy cabbage 15,00 €
Grilled Arctic Char served with roasted Puikula potato, buttermilk, dill and white fish roe 15,00 €
Reindeer rillette served with reindeer consommé,  cranberries and parsley root 15,00 €
Lightly salted roast of a reindeer served with autumns roots prepared in many ways, pickled wild mushrooms and juniper mayonnaise 15,00 €


Main Courses

Aubergine croquette served with bean stew and cashew sourcream 17,00 €
Pan fried Arctic Char served with mushroom risotto and pickled cauliflower 27,00 €
Fish of the day. Ask about today's fresh catch  27,00 €
Pepper steak served with crushed potatoes, pepper sauce and beans cooked with smoked lardo 35,00 €
Beef sirloin served with smoked reindeer soft cheese and Puikula- potato fries  28,00 €
Roasted fillet of reindeer and pan fried breast of a Snow Grouse served with autumn's roots prepared in many ways and  dark lingonberry sauce 38,00 €
Sautéed reindeer served with Puikula- potato mash,  lingonberries and pickled cucumber 28,00 €
Moose sausages served with Lappish potatoes, beetroot,  onion and forest mayonnaise 16,00 €
Salad & Burgers
Chicken salad made with grilled chicken breast, blood orange,  smoked almonds, rucola and feta cheese 18,00 €
Reindeer burger served with Lappish cheese, forest mayonnaise, cranberry compote, onion and Puikula- potato fries 19,00 €
Vegan Beyond Meat- plant protein burger served with vegan aioli, rucola, onion, sour dough bun and Puikula potato fries 18,00 €
Burgers available gluten-free also.
Desserts
Cloudberry posset served with liquorice and lemon verbena  10,00 €
Buttermilk pannacotta served with blueberries and roasted white chocolate  10,00 €
Chocolate cake served with vanilla ice cream and lingonberries 10,00 €
Lappish cheese served with cloudberries and brown sugar cream 10,00 €
Ice cream 3,00 € / pcs
Chocolate, Vanilla, Strawberry, Oat & caramel (vegan), sea buckthorn & pineapple sorbet (vegan)
Kid's Menu
Grilled chicken served with mashed potatoes or fries
Sautéed reindeer served with mashed potatoes, lingonberries and pickled cucmber
Hamburger served with fries
Arctic Char with potato mash

All portions 10 €
Children 3-12 years old
DESSERT WINES
Italy Recioto Della Valpolicella Classico, Zenato 12,00 € / 8 cl   75,00 € / btl
Italy Rosa Regale Brachetto d'Aqui, Banfi 7,05 € / 8 cl  33,00 € / btl
Austria Prestige Trockenbeerenauslese, Lenz Moser 11,20 € 52,00 € / btl
Canada Red Leaf Vidal Icewine, Pillitteri Estate Winery 55,00 € / btl
CHAMPAGNE
Mumm Cordon Rouge Brut 90,00 € / btl
Charles Heidsieck Réserve Brut 14,50 € / 12 cl   90,00 € / btl
Jeeper Grande Réserve Blanc de Blancs Brut 99,00 € / btl
Jeeper Grand Rosé 99,00 € / btl
Taittinger Comtes De Champagne Blanc de Blancs Brut 235,00 € /btl
Dom Pérignon 260,00 € / btl

SPARKLING WINES
Spain Jaume Serra Organic Cava Brut 6,00 € / 12 cl   37,00 € /btl
Italy Val d'Oca Millesimato Prosecco Extra Dry 2017 6,00 € / 12 cl    37,00 € / btl
Spain Perelada Rosado Cava Brut 38,00 € / btl
Italy Martini Brut 40,00 € / btl
Italy Zenato Lugana Brut Metodo Classico 65,00 € / btl
Rosé Wine 
Italy Bardolino Chiaretto Rose, Zenato, Veneto IGT 37,00 € / btl
Corvina, Rondinella, Merlot
VALKOVIINIT

Regnard Chablis Saint Pierre, De Ladoucette 78,00 € / btl
Chardonnay

Chablis Grand Cru Valmur, Jean Collet & Fils 166,00 € / btl
Chardonnay
 
Loire Comte Lafond Sancerre, De Ladoucette 85,00 € / btl
Sauvignon Blanc

 Pfaff Pinot Gris, La Cave des Vignerons de Pfaffenheim 48,00 € / btl
Pinot Gris

Jurtschitsch Grüner Veltliner Stein, Kamptal, Niederösterreich 57,00 € / btl
Grüner Veltliner

Lugana Riserva Sergio Zenato, Zenato, Veneto 79,00 € / btl
Trebbiano Di Lugana

Mesta Organic Verdejo, Bodegas Fontana / DO Ucles 38,00 € / btl
Verdejo

Abadia de San Campio Albariño, Bodegas Terras Gaura, Rías Baixas 50,00 € / btl
Albariño
 
Germany Dr. Loosen Dr. L Riesling, Dr. Loosen, Mosel-Saar-Ruwer 48,00 € / btl
Riesling
New Zealand Villa Maria Private Bin Organic Sauvignon Blanc, Malborough 46,00 € /btl
Sauvignon Blanc
 
Villa Maria Cellar Selection Riesling, Malborough 54,00 € / btl
Riesling

United States Chateau Ste Michelle Riesling, Ste Michelle Wine Estate,  Columbia Valley 43,00 € / btl
Riesling

Vintner's Reserve Chardonnay, Kendall-Jackson California 73,00 € / btl
Chardonnay
RED WINES
France Châteauneuf-du-Pape Rouge, Xavier 89,00 € / btl
Grenache Noir, Mourvèdre, Syrah
 
Italy Col di Sasso, Castello Banfi, IGT Toscana 39,00 € / btl
Sangiovese, Cabernet Sauvignon, Merlot

Tommasi Le Prunée Merlot, Tommasi, IGT Delle Venezie 43,00 € /btl
Merlot

Velluto Appassimento, Famiglia Zonin, Veneto 45,00 € / btl
Dried Corvina, Corvinone, Rondinella

Zenato Ripassa Valpolicella Superiore, Zenato, Veneto 62,00 € / btl
Corvina Veronese, Rondinella, Oseleta & Croatina

Tommasi Amarone, Della Valpolicella Classico, Tommasi, Veneto 110,00 € / btl
Corvina Veronese, Corvinone, Oseleta, Rondinella

Gaja Ca´Marcanda, Angelo Gaja, Tuscany 230,00 € / btl
Merlot, Cabernet Sauvignon, Cabernet Franc

Spain Mesta Organic Tempranillo, Bodegas Fontana / DO Ucles 38,00 € /btl
Tempranillo

Lan Gran Reserva, Bodegas Lan, Rioja 69,00 € / btl
Tempranillo, Mazuelo, Garnacha

Torres Mas La Plana, Catalonia, DO Penedes 99,00 € / btl
Cabernet Sauvignon

Termanthia, Bodega Numanthia, Toro 250,00 € / btl
Tinta de Toro

Argentina Santa Julia Organic Malbec, Zuccard, Mendoza 34,00 € / btl
Malbec

Norton Reserva Malbec, Bodega Norton, Mendoza 52,00 € / btl
Malbec
Chile Don Melchor, Concha y Toro, Puento Alto 110,00 € / btl
Cabernet Sauvignon

Ocio, Cono Sur, Casablanca Valley 97,00 € / btl
Pinot Noir

New Zealand Villa Maria Private Bin Pinot Noir, Villa Maria Estate, Malborough 50,00 € /btl
Pinot Noir

United States 3 Finger Jack Old Vine Zinfandel, Delicato Family Vineyards 61,00 € / btl
Zinfandel