Bistro Hullu Poro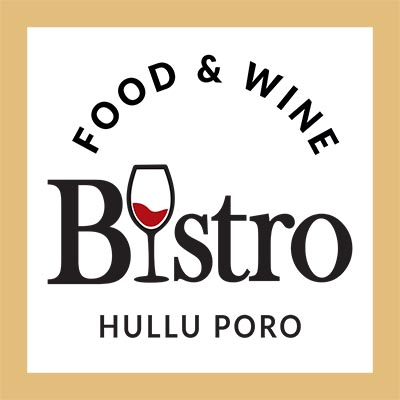 Hullu Poro's Bistro offers uncomplicated and delicious bistro foods which take you on a culinary journey to the rustic kitchens of Southern France and Northern Italy.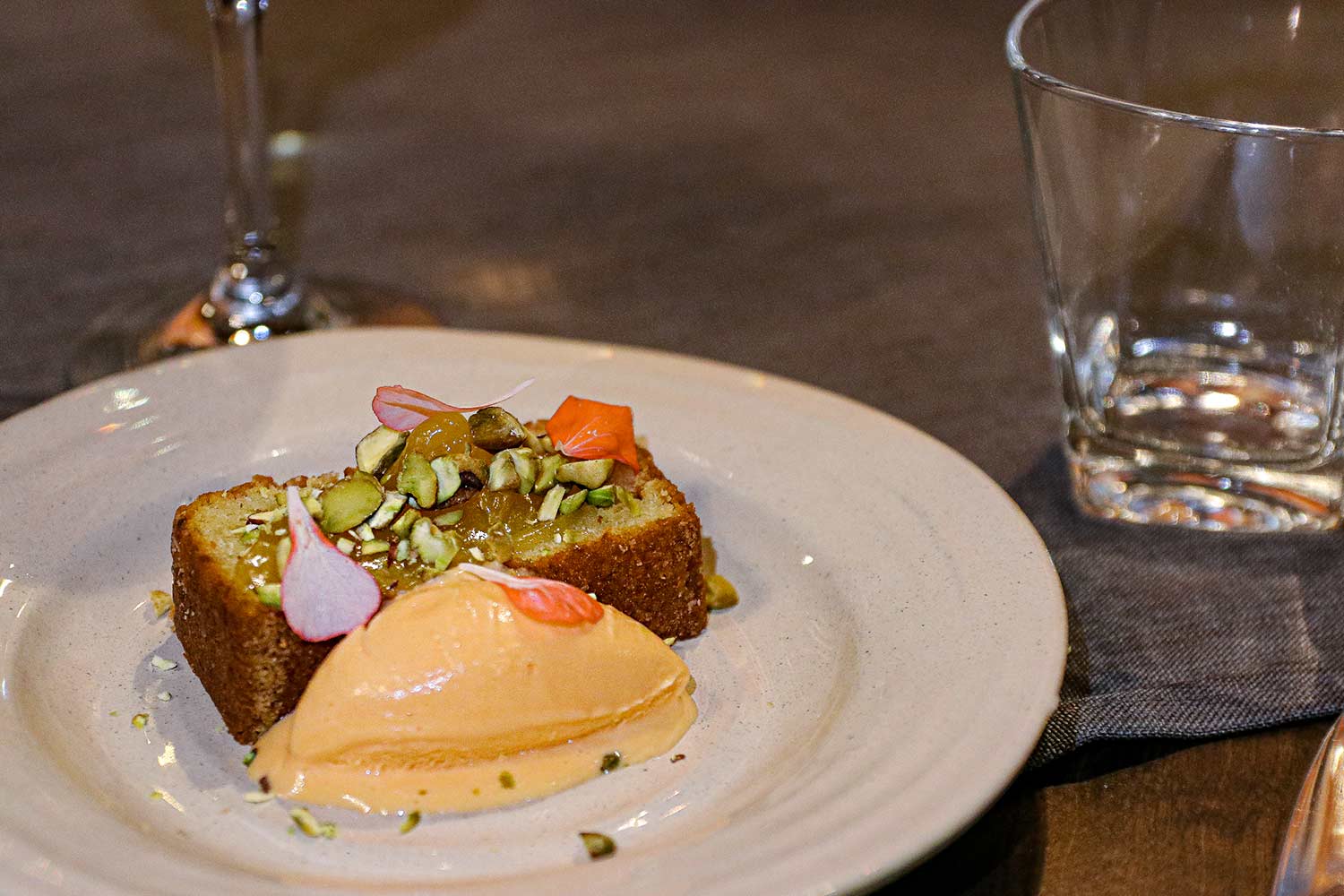 A new type of restaurant the heart of Levi
At Hullu Poro, we love experiencing the different cuisines of the world and sometimes we even get a little crazy, but we never forget our roots: the best Laplander cuisine in the world. That is why our menu always features locally sourced reindeer and fish in many forms.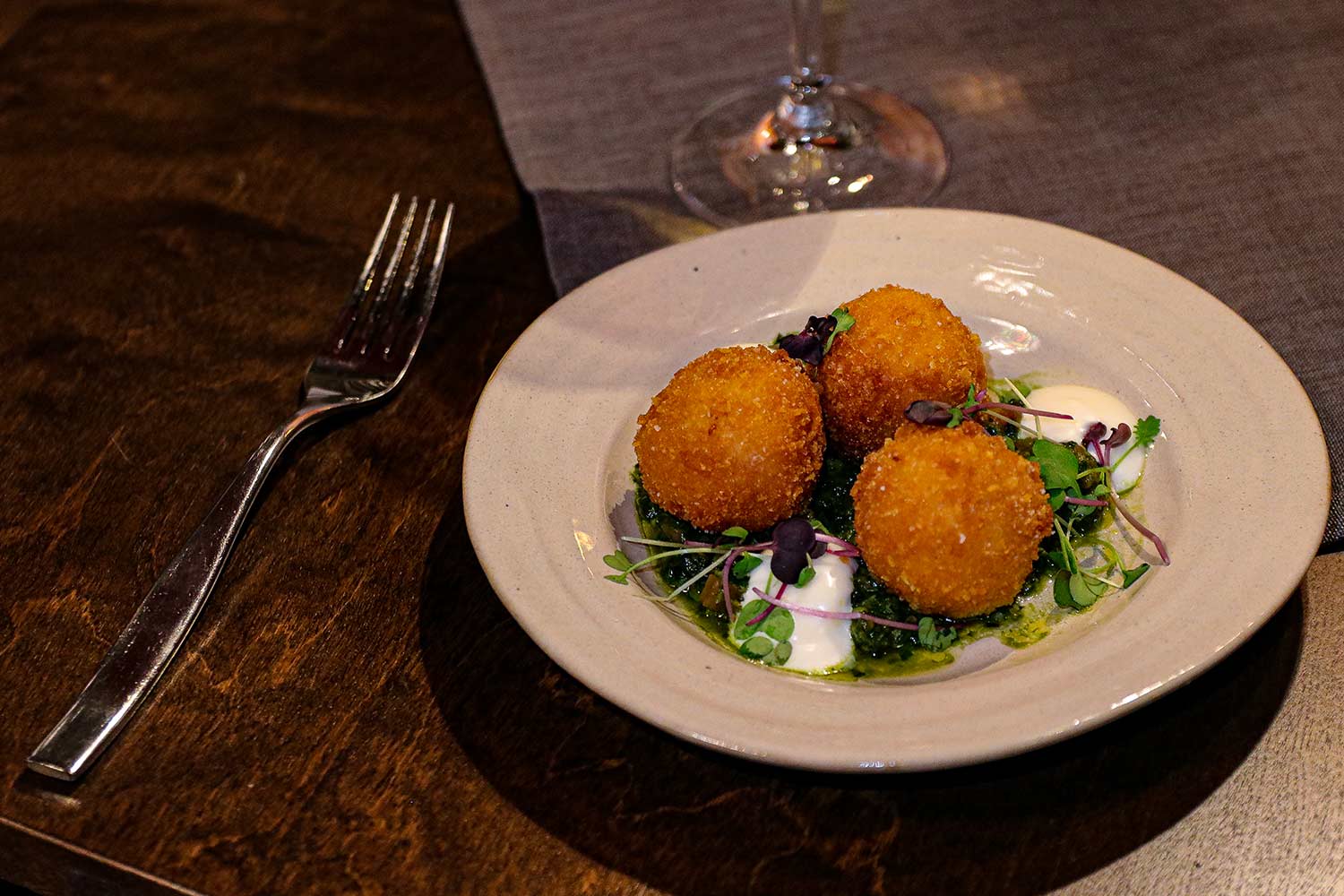 A variety of dry aged meat and Nordic charcuteries
We also serve a variety of dry aged meat and Nordic charcuteries. Bistro has an ambient alpine atmosphere and is located in the middle of the Levi village.
Our generous portions, distinctive flavours, and carefully selected wines carry our guests to the middle of vineyards and the blusters of the Bay of Biscay for a moment.
Classic bistro portions with modern flavours are the stars of our menu, and our selection of delectable wines complements the symphony of flavours perfectly.
Contact info
Tel. +358407148866
Address: Hiihtäjänkuja 10, FIN-99130 Levi
Opening hours
Open 19.12.2023 – 6.1.2024 (closed 24.12. & 25.12.)
Daily 17.00 – 23.00
Open 7.1.2024 – 15.2.2024
Daily 17.00 – 23.00
Starters
Oignon (L) 16 €
Traditional onion soup served with sour dough bread and Gruyere cheese
Lemon Arancini (L, G) 16 €
Deep fried lemon Arancini risotto balls filled with Taleggio cheese and served with Pistou sauce and aioli
Endive & Sardine (L, G) 16 €
Endive salad made with crispy endives, sardine from Italy, caramelized walnuts and blue cheese
Gambas Pil Pil (L) 18 €
Scampis braised in chili & garlic oil served with sour dough bread
Brochet  (L) 17 €
Poached pike cakes served with fresh spinach and Nantua crayfish sauce
Reindeer À la Bistro (L, G) 17 €
Fried reindeer tongue served with Jerusalem artichoke, brown butter, green apple and tarragon
Charcuterie 20 €
Daily Assortment of cold cuts, sausage, cheese and pickle
Great side order 6 €
Sour dough bread from our own bakery

Main Courses
"Savumuikku" Salad Nicoise (L, G) 19 €
Traditional Salad Nicoise tuned with smoked Lappish Vendace
Pumpkin falafels (L, G) 20 €
Pumpkin falafels served with white bean puree, grilled vegetables and olive oil
Grilled half of a chicken (L, G) 26 €
Grilled half of a chicken glazed with blood orange and served with roasted potatoes, grilled endives and Pistou mayonnaise
Pan-fried cod fillet (L, G) 29 €
Pan-fried cod fillet served with Nantua sauce, Piperade vegetables, Lappish potatoes and marinated fennel
Bistro's Blue Mussels (L, G) 22 €
Fresh blue mussels À la Bistro served with aioli and fries
Entrecote (L, G) 42 €
Entrecote (250 gr) grilled on open fire served with Café De Paris butter, fries and grilled vegetables
Pan fried reindeer liver (L, G) 28 €
Pan fried reindeer lever and mashed Lappish potatoes with fresh herbs served with onion sauce and lingonberries
Boudin Noir (L) 22 €
Reindeer blood sausages and mashed Lappish potatoes with fresh herbs served with lingonberry butter and tarragon mustard
Desserts
Peach Melba (L, G) 13 €
Poached peaches served with raspberry sauce, fudge and vanilla ice cream
Olive oil cake (L) 13 €
Olive oil cake served with lemon curd, pistachio and carrot ice cream
Chocolate mousse (VL, G) 13 €
Chocolate mousse and white chocolate namelaka served with orange brittle
Cheese platter (L) 16 €
Cheese platter with two kind of cheese, nutty bread and compote
Bistro's Ice Creams 6 €
Vanilla, Mint chocolate, Forest berry, Pineapple sorbet
KID'S MENU
Deep fried chicke (L, G) 12 €
Deep-fried chicken, vegetables and fries
Poached (L) 12 €
Poached pike cakes, vegetables and mashed Lappish potatoes with fresh herbs
Pan fried cod fillet (L, G) 15 €
Pan-fried cod fillet, vegetables and mashed Lappish potatoes with fresh herbs
Update 19.12.2022
Champagnes & Sparkling wines
Veuve Clicquot Champagne Brut 99 €
Chardonnay, Pinot Meunier, Pinot Noir
Dom Perignon 300 €
Chardonnay, Pinot Noir
Jaume Serra Cava Brut 38 €
Macabeo 50%, Parellada 35%, Xarel lo 15%
Casa Canevel Prosecco DOC Brut 40 €
Glera
Casa Canevel Prosecco Rose 48 €
Glera, Pinot Noir
Rosé wine & Pink Riesling
Zenato San Benedetto Rose 46 €
Rondinella, Cabernet Franc, Pinot Nero
Dessert wines  8 cl
Dreissigacker Riesling Auslese 12,80 €
Germany. Rheinhessen Riesling
Brännland Iscider 15 €
Sweden. Omena jääsiideri
White wines

Italy
DOC Sicilia Mandrarossa Grillo Costadune 44 €
Grillo
Veneto Dal Cero Ramato Pinot Grigio 48 €
Pinot Grigio
Germany
Rheinhessen Deep Roots Organic Rivanes 37 €
Rivaner
Pfal That's Neiss Pink Riesling 51 €
Riesling, Pinot Noir
Rheingau Prinz Von Hessen Riesling Feinherb 56 €
Riesling
France
Chablis AOC Domaine William Fevre Chablis 63 €
Chardonnay
Chablis Régnard Chablis Saint Pierre 82 €
Chardonnay
Austria
Kamptal Jurtschitsch Grüner Veltliner Stein 61 €
Grüner Veltliner
Red wines
Italy
DOC Sicilia Mandrarossa Costadune Nero d'avola 44 €
Nero d'Avola
Veneto Ripassa Valpolicella Superiore, Zenato 68 €
Corvina, Croatina, Oseleta & Rondinella
Veneto Zenato Amarone della Valpolicella DOC Classico 115 €
Corvina Veronese, Rondinella, Oseleta & Croatina
France
Bordeaux Régnard Bourgogne Retour des Flandres 66 €
Pinot Noir
USA
California 3 Finger Jack Old Vine Zinfandel 64 €
Zinfandel
Argentina
Mendoza Norton Reserva Malbec 54 €
Malbec
Chile
Casablanca Valley Cono Sur Ocio 97 €
Pinot Noir
Puento Alto Don Melchor 125 €
Cabernet Sauvignon
Update 19.12.2022