Ämmilä
Restaurant Ämmilä
Traditional local food with a modern touch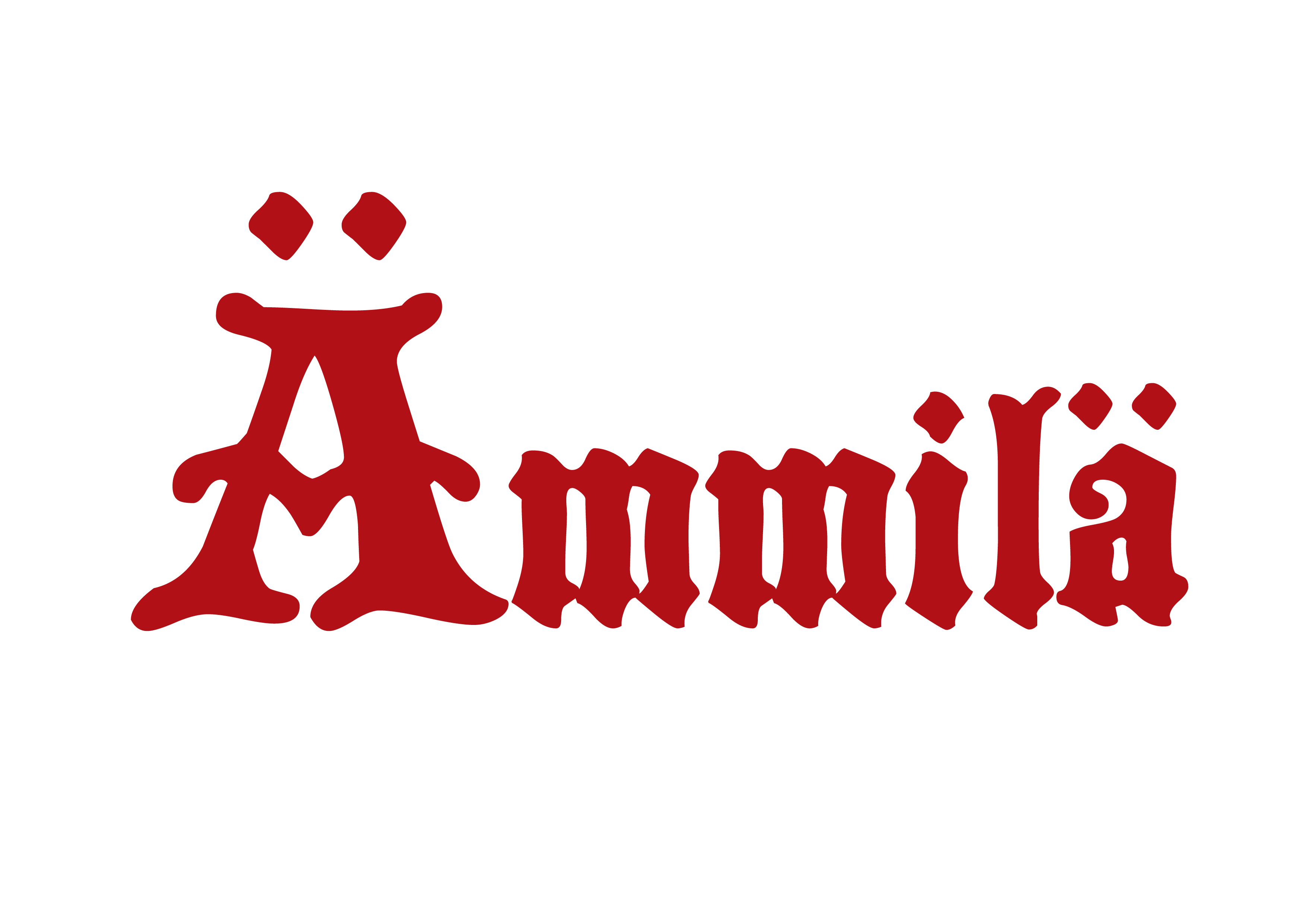 Restaurant Ämmilä offers traditional local food with a modern twist since 2007. Over the years, the restaurant has become famous for its honest and authentic Laplandic á la carte menu as well as its home-cooked lunch buffet.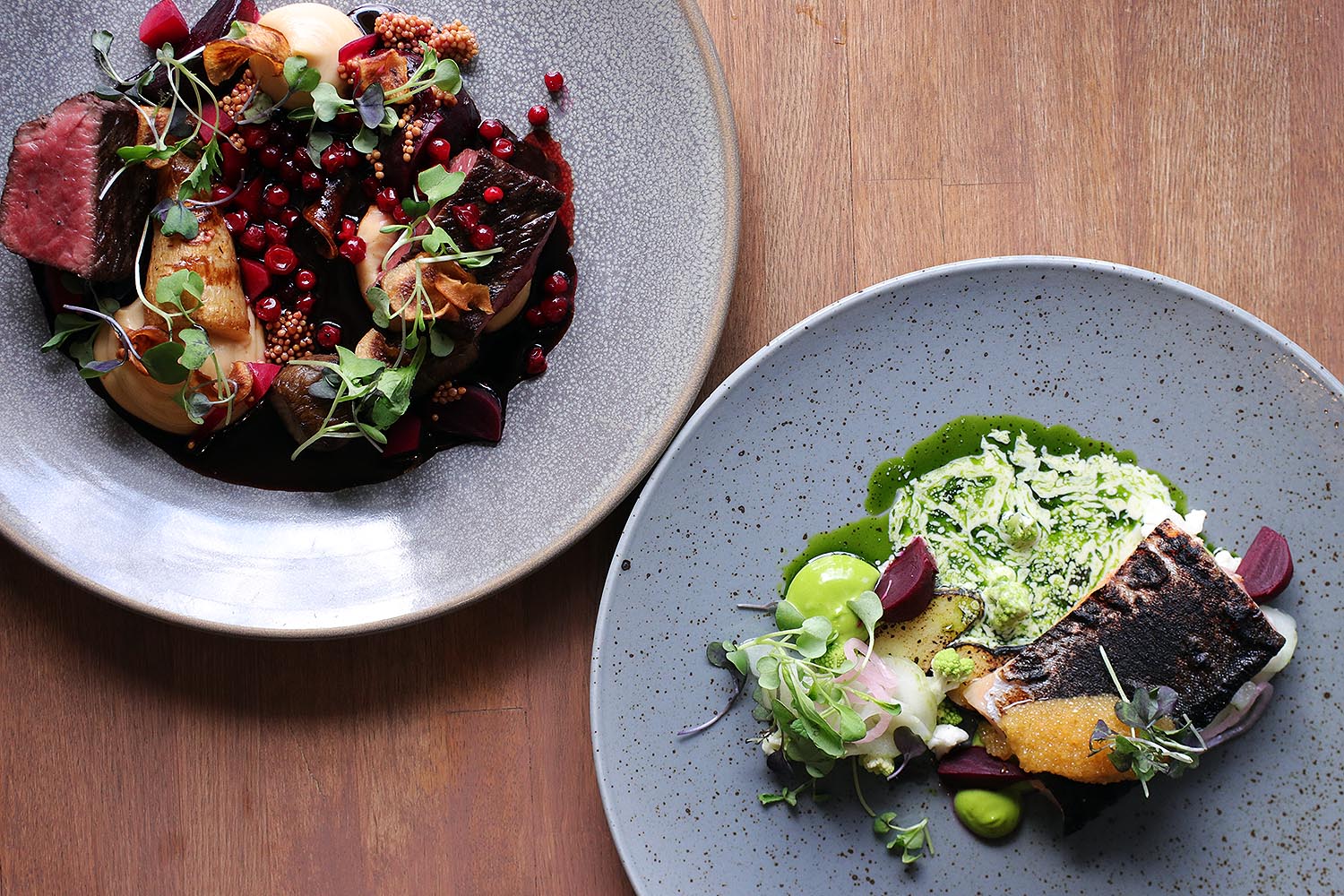 Traditional local food with a modern twist
Over the years, Restaurant Ämmilä in Levi has become famous for its honest and authentic Laplandic á la carte menu as well as its home-cooked lunch buffet.
The á la carte menu is based on guaranteed clean and excellent raw goods from producers in the nearby areas.
Depending on the season, the menu includes trapped willow grouse, game from nearby reindeer herder communities and fish in many different forms, not to mention Laplandic berries and the world's best puikula potato (almond potato) and more. The excellent wine list or a Hullu Poro schnapps will complement your dinner will make your experience perfect.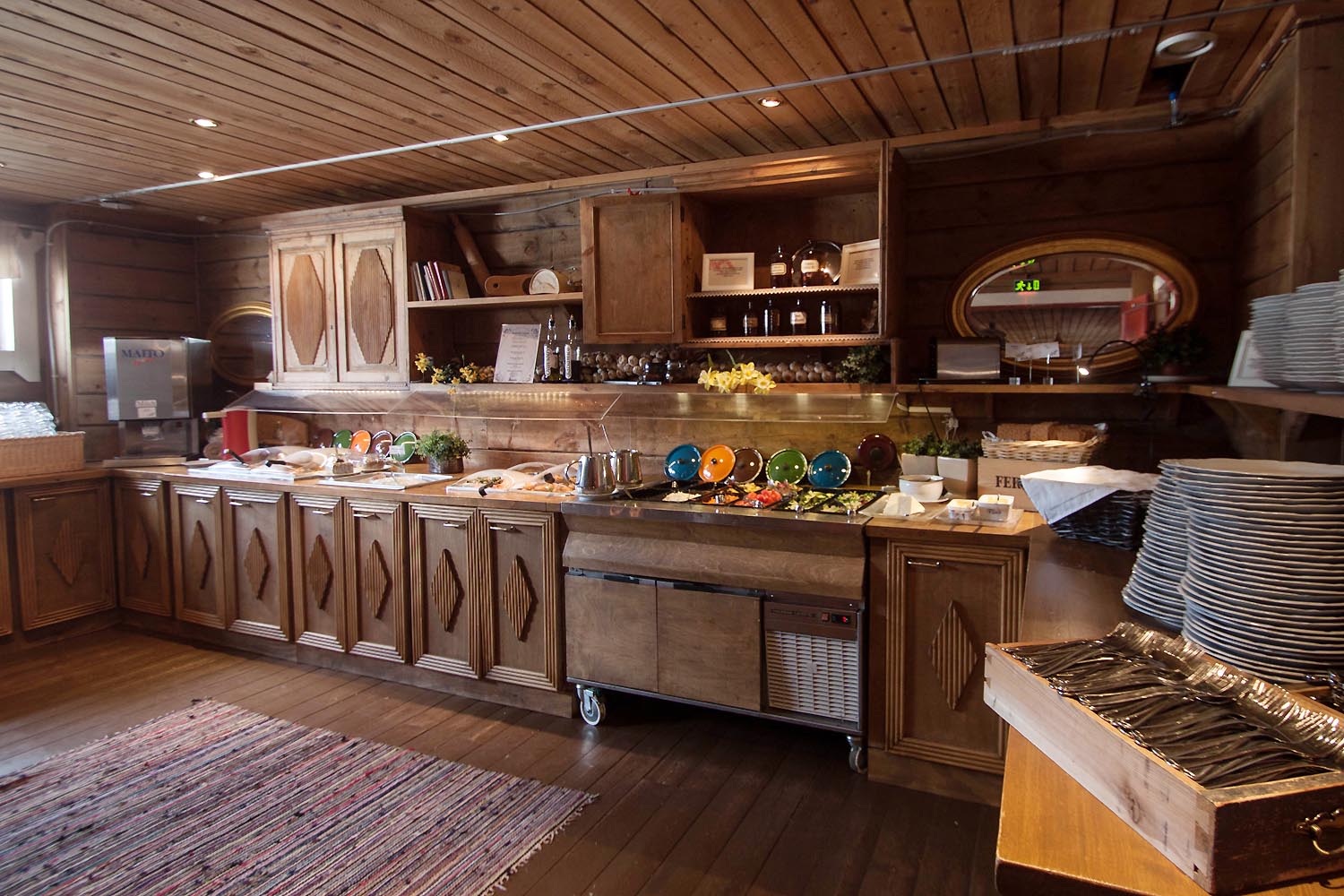 Lunch Buffet & Lappish Buffet
During lunch time Ämmilä serves 'home-cooked style' lunch buffet. On Sundays the buffet is served on a Lappish way, being a Lappish Buffet.
Served when the restaurant is open. Check opening hours below.
Lunch Mon – Sat from 11 to 15. Price 15 €
Lappish buffet Sundays from 11.00 to 15.00  Price 19 €
Starters: Sumptuous Salad Buffet, Bread and Spreads.
Main courses: Sautéed Game, Kammis Reindeer Sausage, Glow-Fried Salmon and Mashed Potatoes
Dessert: Bilberry Pie & Vanilla Sauce and Sweetened Lappish Berry Soup with Whipped Cream.
Rakkavaarantie 3, 99130 Sirkka, Suomi
Contact info
Tel. +358407148894
Address: Rakkavaarantie 3, 99130 Levi
Opening hours
Closed 2.5.-9.6.2022
Open from 10.6.2022
Lunch buffet Monday – Saturday 11.00 – 15.00
À la daily 15.00 – 23.00
Lappish buffet Sunday 11.00 – 15.00
Restaurant Ämmilä
À la carte  2022
Starters
Vegan pannacotta filled with fried mushrooms and served with chestnut purée and pickled mushrooms 15,00 €
Langoustine soup. Creamy consomme made with roasted lobster shells and
served with pickled crab, crab cracker and black aioli  17,00 €
Reindeer prepared in two ways. Lightly smoked roast and pan fried tongue served with beetroot, spruce teriyaki and pickled kohlrabi 19,00 €
Traditional buck wheat blini, served with white fish roe or rainbow trout roe
Blini is fried with butter and served with marinated red onion and sour cream 18,50 €
Salads
Salad made with baby gem lettuce, roasted Jerusalem artichoke, roasted nuts, melon, grilled lemon and Parmesan dressing.
• Naturel 14,00 €
• Grilled chicken breast 17,00 €
• Goat cheese 19,00 €
Main Courses
Celeriac roasted inside a salt crust served with cauliflower, roasted almond and umami sauce.. 21,00 €
Pan fried Arctic Charserved with Lappish Puikula potato, cauliflower and
brown butter and egg velouté 29,00 €
Poached burbot fillet, pan fried burbot liver, Lappish Puikula potato and shell fish beurre blanc 28,00 €
Beef sirloin chain off cut (200gr) served with red wine sauce, fried vegetables, beetroot purée and fries 28,00 €
Sautéed reindeer served with mashed potatoes, pickled cucumbers and lingonberries. This is Laplands most traditional dish. 28,00 €
Roasted reindeer fillet and over cooked reindeer rib roll filled with garlic and fresh herbs served with garlic potato purée and red wine sauce 38,00 €
Reindeer Bratwurst and over cooked reindeer neck served with red wine sauce Cole Slaw salad, fries and mustard mayonnaise. Served on a wooden plank. 25,00 €
Kid's menu
Pan fried Arctic Char served with mashed potatoes and vegetables. 12,00 €
Fried chicken breast served with fries and vegetables. 12,00 €
Sauteéd reindeer served with mashed potatoes and lingonberries. 14,00 €
Children 3-12 years old.
Desserts
Dark Chocolate ganache served with chocolate cake, sea buck thorn gelée and meringue 10,00 €
Cocoa biscuit, milk ice cream, caramel and lingonberries 10,00 €
Lappish cheese served with brown sugar cream and cloudberries. 13,00 €
This is one of the Lappish original specialities
Ice cream and Sorbet Sundae. 7,00 €
Ask us for the ice cream and sorbet selection of the day
Update 14.2.2022
White Wines
France
Chablis
Regnard Chablis Saint Pierre, Régnard 78,00 €
Chardonnay
Chablis
1er Cru Montmains, Jean Collet & Fils 129,00 €
Chardonnay
Chablis
Grand Cru Valmur 2015, Jean Collet & Fils 166,00 €
Chardonnay
Loire
Dezat Sancerre Blanc, Andre Dezat & Fils 85,00 €
Sauvignon Blanc
Italy
Veneto
Dal Cero Ramato Pinot Grigio, Dal Cero 49,00 €
Pinot Grigio
Veneto
Lugana Riserva Sergio Zenato, Zenato 84,00 €
Trebbiano Di Lugana
Spain
DO Rias Baixas
Santiago Ruiz, Bodegas LAN 520,00 €
Albariño
Austria
Kamptal
Jurtschitsch Grûner Veltliner Stein, 61,00 €
Weingut Jurtschitsch
Grûner Veltliner
Luxeburg
Remich
Rivaner Premier cru Remich Primeberg 2017, Desom 51,00 €
Rivaner
Germany
Mosel
Freeclimber Riesling, Axel Pauly 54,00 €
Riesling
USA
California
Irony Monterrey Chardonnay, Delicato Family Wines 62,00 €
Chardonnay
Chile
Bio-Bio Valley
Cono Sur Single Vineyard Block 23 Riesling, Cono Sur 55,00 €
Riesling
New Zealand
Marlborough
Mount Riley Sauvignon Blanc, Mount Riley Wines 49,00 €
Sauvignon Blanc
Red Wines
France
Rhone
Les Charretons Châteauneuf-du-Pape, Le Plan des Moines 89,00 €
Grenache Noir, Mourvèdre, Cinsault
Languedoc-Roussillon
Paul Mas Estate Cabernet Sauvignon, Château Paul Mas 45,00 €
Cabernet Sauvignon
Bordeaux
Regnard Bourgogne Pinot Noir, Regnard 62,00 €
Pinot Noir
AC Cotes de Bourg
Puybarbe Le Roc, Château Puybarbe 61,00 €
Cabernet Franc, Cabernet Sauvignon, Malbec, Merlot
Italy
Piemonte
Castello del Poggio Barbera d'Asti 42,00 €
Barbera d'Asti
Veneto
Ripassa Valpolicella Superiore, Zenato 64,00 €
Corvina Veronese, Rondinella, Oseleta & Croatina
Veneto
Tommasi Amarone, Della Valpolicella Classico, 110,00 €
Tommasi
Corvina Veronese, Corvinone, Oseleta, Rondinella
Toscana
Gaja Ca´Marcanda, Angelo Gaja 230,00 €
Merlot, Cabernet Sauvignon, Cabernet Franc
Spain
DO Penedès
Les Timbes, Albet i Noya 59,00 €
Caladoc, Marselan ja Arinarnoa
Catalunya
5 Finques Reserva, Perelada 72,00 €
Cabernet Sauvignon, Garnacha Negra, Merlot, Syrah
Rioja
Lan Gran Reserva, Bodegas Lan 69,00 €
Tempranillo, Mazuelo
Toro D.O.
Termanthia, Bodega Numanthia 250,00 €
Tinta de Toro
Portugal
DOC Dao
Dão Casal Mor, Caves Primavera 38,00 €
Touriga Nacional, Jaen, Alfrocheiro
Argentina
Mendoza
Norton Reserva Melbec 54,00 €
Malbec
Chile
Puento Alto
Don Melchor, Concha y Toro 115,00 €
Cabernet Sauvignon
USA
California
3 Finger Jack Old Vine Zinfandel, Delicato Family Wines 66,00 €
Zinfandel
New Zealand
Marlborough
Wairau Pacific Pinot Noir, Wairau Wines 56,00 €
Pinot Noir
Dessert Wines
Germany
Dreissigacker Riesling Auslese 120,00 € / 75cl
Italy
Tommasi Recioto Valpolicella 60,00 € / 37,5cl
Israel
Yarden Heightswine 67,00 € / 37,5cl
Finland
Lakka Fortfield väkevöity viini 51,00 € / 75cl
Portugal
Graham's Late Bottled Vintage Port 71,25 € / 75cl
Spain
Harvey's Bristol Cream Sweet Sherry 56,25 € / 75cl
Sparkling Wines / Champagnes / Rosé Wine
Val d'Oca Prosecco Millesimato Extra Dry, Italy 37,00 €
Pere Ventura Cava Classic Brut, Spain 37,00 €
Casa Canevel Prosecco Rosé Brut 46,00 €
Zenato Lugana Brut Metodo Classico, Italy 65,00 €
Veuve Clicquout, France 90,00 € / 75cl 14,40 € / 12cl
G.H Mumm Cordon Rouge, France 95,00 €
Taittinger Comtes De Champagne Blancs Brut 235,00 €
Dom Pérignon 260,00 €
Zenato San Benedetto Rose, Italy 41,00 €
Table reservation
You can use the reservations form below to book a table in our restaurant. Reservation will be valid when we have confirmed it to Your E-mail.