Ämmilä
Restaurant Ämmilä
Traditional local food with a modern touch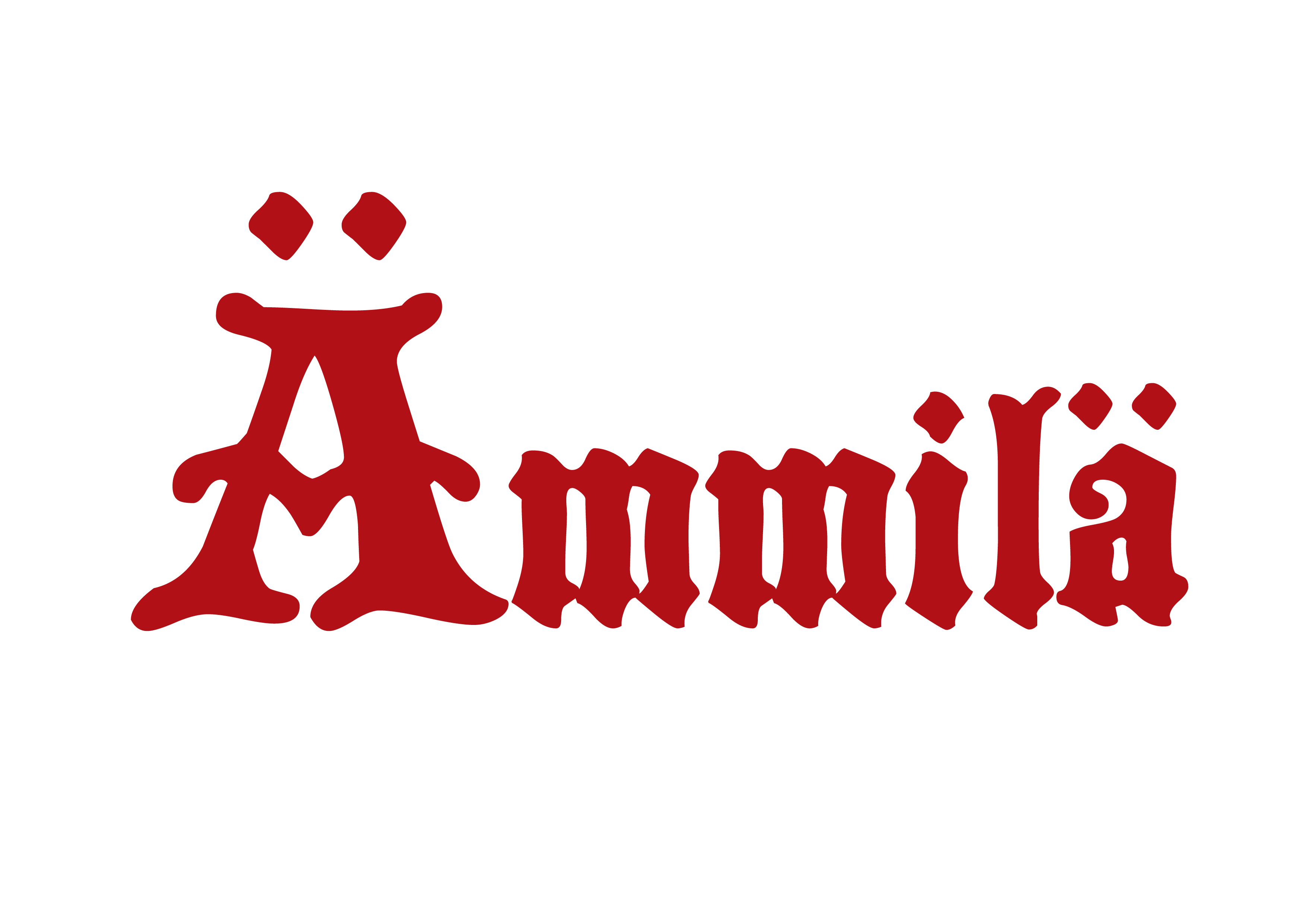 Restaurant Ämmilä offers traditional local food with a modern twist since 2007. Over the years, the restaurant has become famous for its honest and authentic Laplandic á la carte menu as well as its home-cooked lunch buffet.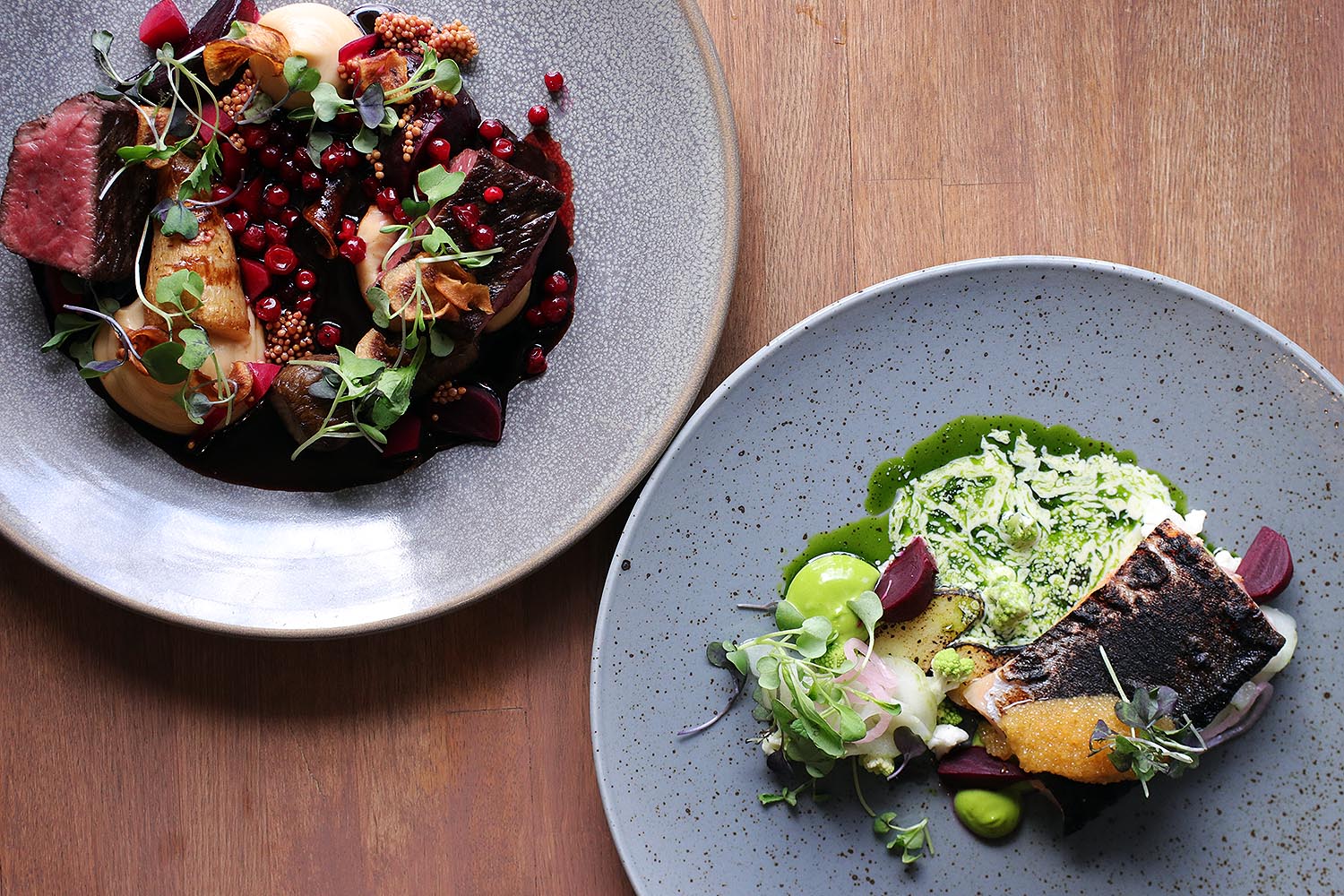 Traditional local food with a modern twist
Over the years, Restaurant Ämmilä in Levi has become famous for its honest and authentic Laplandic á la carte menu as well as its home-cooked lunch buffet.
The á la carte menu is based on guaranteed clean and excellent raw goods from producers in the nearby areas.
Depending on the season, the menu includes trapped willow grouse, game from nearby reindeer herder communities and fish in many different forms, not to mention Laplandic berries and the world's best puikula potato (almond potato) and more. The excellent wine list or a Hullu Poro schnapps will complement your dinner will make your experience perfect.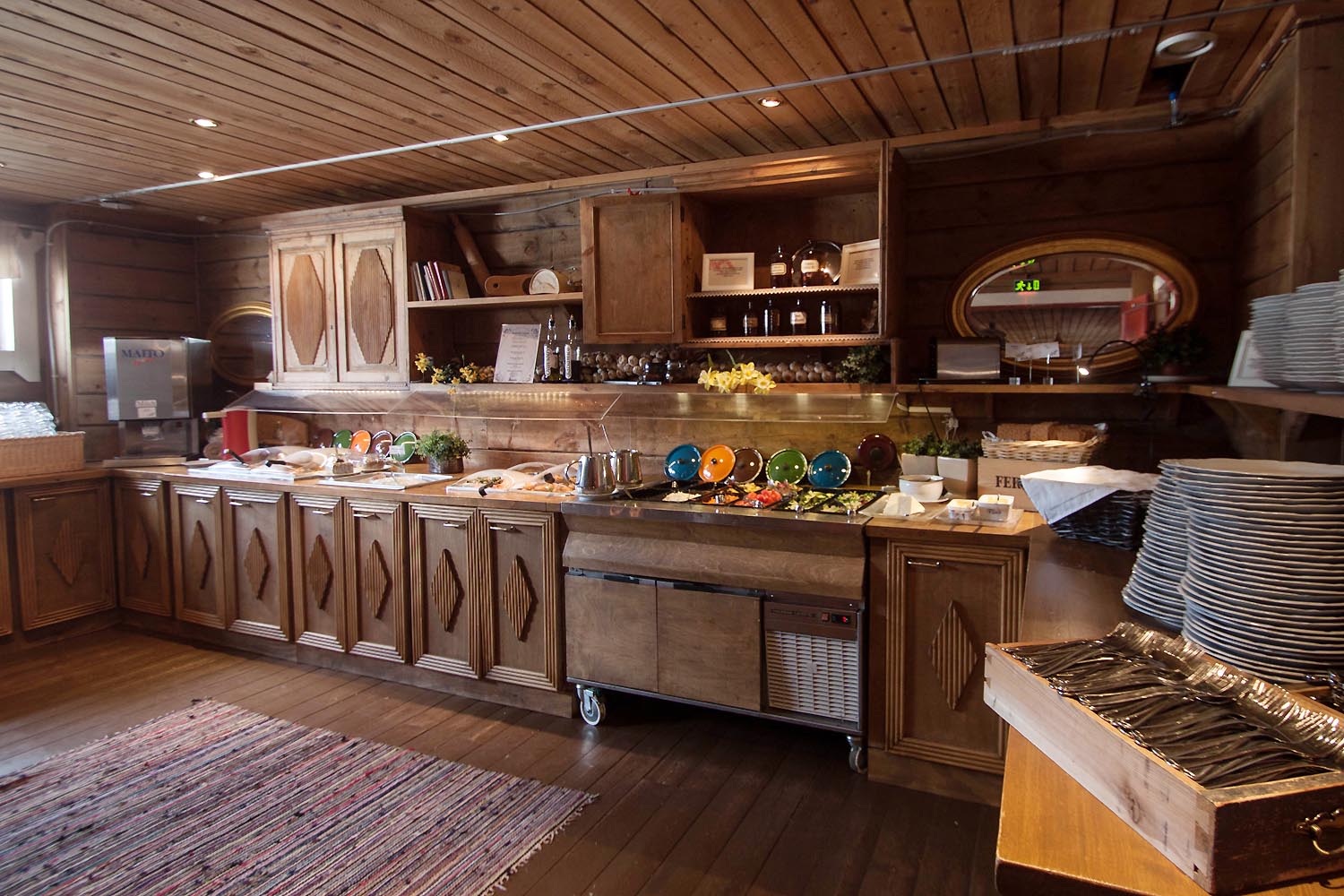 Lunch Buffet & Lappish Buffet
During lunch time Ämmilä serves 'home-cooked style' lunch buffet. On Sundays the buffet is served on a Lappish way, being a Lappish Buffet.
Served when the restaurant is open. Check opening hours below.
Lunch Mon – Sat from 11 to 15. Price 15 €
Lappish buffet Sundays from 11.00 to 15.00  Price 19 €
Starters: Sumptuous Salad Buffet, Bread and Spreads.
Main courses: Sautéed Game, Kammis Reindeer Sausage, Glow-Fried Salmon and Mashed Potatoes
Dessert: Bilberry Pie & Vanilla Sauce and Sweetened Lappish Berry Soup with Whipped Cream.
Contact info
Tel. +358407148894
Address: Rakkavaarantie 3, 99130 Levi
Opening hours
Open
Lunch buffet Monday – Saturday 11.00 – 15.00
Lappish buffet Sunday 11.00 – 15.00
À la carte daily 15.00 – 23.00
Christmas lunch Fri 9.12.2022 & Fri 16.12.2022
Restaurant Ämmilä
À la carte  autumn 2022
Starters
WILD MUSHROOM SOUP (L, G) 16,00 € / 18,00 €
Creamy wild mushroom and black salsify soup made with morels and
matsutake mushrooms served with lovage oil. Malt bread and brown butter
GRILLED ARCTIC CHAR (L, G) 17,00 €
Grilled Arctic Char served with crayfish mayonnaise, roe, pickled vegetables, dill and butter milk sauce
BLINI (L) 18,00 €
Traditional buck wheat blini fried in butter, served with white fish roe,  marinated red onion and sour cream
REINDEER RILLETTE  (L, G) 17,00 €
Reindeer rillette made with over cooked reindeer neck served with parsnip purée, fresh shoots and herbs from Kotipelto Farm, pickled vegetables and reindeer consommé
Salads
AUTUMN SALAD  (L, G)
Salad made with crispy salads leaves cherry tomatoes, roasted nuts,  marinated red onion, melon and Parmesan dressing
• Naturel 15,00 €
• Smoked salmon  18,00 €
• Crispy chicken breast 18,00 €
Burgers
REINDEER BURGER (L) 20,00 €
Reindeer Burger (150 gr.), with Lappish cheese, Fat Aslak cranberry compote and mayonnaise. Served with fries and a potato bun
HOUSE BURGER (L) 19,00 €
Cheese & Bacon burger. 100 % beef burger (150 gr), bacon, cheddar cheese, caramelised onion, pickled cucumber and aioli. Served with fries and a potato bun
Main Courses
GRILLED CABBAGE (VEGAN) 21,00 €
Grilled cabbage, fried autumns fresh vegetables and smoked parsnip purée
served with umami broth and Vegan Butchers No Mince
FRIED ARCTIC CHAR (L, G) 25,00 €
Fried salmon served with summer vegetables, new potato with bake and crab Hollandaise sauce
BEEF STEAK (200 gr) (L, G) 29,00 €
Beef steak (200gr), roasted carrots and pumpkin purée served with black peppercorn & calvados sauce and potato wedges
SAUTÉED REINDEER (L, G) 29,00 €
Sautéed reindeer served with mashed potatoes, pickled cucumbers and lingonberries – this is Lapland's most traditional dish
ÄMMILÄ GRILL PLANK (L, G) 22,00 €
Traditionally smoked pork belly and wild boar bratwurst served on a pine wood plank with pickled apple & cabbage slaw, aioli and fries
Desserts
CLOUDBERRY PUDDING (L) 13,00 €
Cloudberries from Raittijärvi served with Tuile biscuit, berries and flowers
SMOKED APPLE (L) 14,00 €
Smoked apple ice cream served with whisky caramel and almond frangipane
LAPPISH CHEESE (L, G) 14,00 €
Lappish cheese served with brown sugar cream and cloudberries
ICE CREAM SUNDAE 6,00 €  / scoop
• Vanilja • Chocolate • Salty caramel • Blueberry yogurt • Strawberry sorbet
Kid's menu
1. CHIKEN 12,00 €
Deep fried chicken served with roasted root vegetables and fries
2. SAUTÉED REINDEER 14,00 €
Sautéed reindeer served with mashed potatoes, lingonberries and pickled cucumbers
3. HAMBURGER 10,00 €
Hamburger. 100gbeef patty, ketchup and fries
4. SALMON 12,00 €
Fried arctic char, roasted roots vegetables and mash potatos
Children 3-12 years old.
Update 30.8.2022
White wines
FRANCE
Chablis
1er Cru Montmains, Jean Collet & Fils 129,00 €
Chardonnay
Loire
Dezat Sancerre Blanc, Stéphanie & Arnaud Cellier des Marnes 85,00 €
Sauvignon Blanc
ITALY
Veneto
Dal Cero Ramato Pinot Grigio, Dal Cero 49,00 €
Pinot Grigio
Lugana Riserva Sergio Zenato, Zenato 84,00 €
Trebbiano Di Lugana
SPAIN
DO Rias Baixas
Santiago Ruiz, Bodegas LAN 52,00 €
Albariño
AUSTRIA
Kamptal
Jurtschitsch Grûner Veltliner Stein, 61,00 €
Weingut Jurtschitsch
Grûner Veltliner
LUXEMBURG
Remich
Rivaner Premier cru Remich Primeberg 2017, Desom 51,00 €
Rivaner
GERMANY
Mosel
Freeclimber Riesling, Axel Pauly 54,00 €
Riesling
USA
California
Irony Monterrey Chardonnay, Delicato Family Wines 62,00 €
Chardonnay
CHILE
Bio-Bio Valley
Cono Sur Single Vineyard Block 23 Riesling, Cono Sur 55,00 €
Riesling
NEW-ZEALAND
Marlborough
Mud house Sauvignon Blanc, Mud house 50,00 €
Sauvignon Blanc
Red wines
FRANCE
Bordeaux
Chateau Poitevin 53,00€
Cabernet Sauvingnon, Petit Verdot, Merlot
Regnard Bourgogne Pinot Noir, Regnard 66,00 €
Pinot Noir
Rhône
Les Charretons Châteauneuf-du-Pape, Le Plan des Moines 89,00 €
Grenache, Mourvèdre, Cinsault
ITALY
Piemonte
Castello del Poggio Barbera d'Asti 42,00 €
Barbera d'Asti
Veneto
Ripassa Valpolicella Superiore, Zenato 68,00 €
Corvina Veronese, Rondinella, Oseleta & Croatina
Tommasi Amarone, Della Valpolicella Classico, 110,00 €
Tommasi
Corvina Veronese, Corvinone, Oseleta, Rondinella
Toscana
Gaja Ca´Marcanda, Angelo Gaja 230,00 €
Merlot, Cabernet Sauvignon, Cabernet Franc
SPAIN
DO Penedès
Les Timbes, Albet i Noya 59,00 €
Caladoc, Marselan ja Arinarnoa
Coto de Imaz Gran Reserva, El Coto 76,00 €
Tempranillo
Toro D.O.
Termanthia, Bodega Numanthia 250,00 €
Tinta de Toro
PORTUGAL
DOC Douro
Casal Gancia Douro, Aveleda 39,00 €
Touriga Nacional, Tinta Rorix, Touriga Franca, Tinta Barroca
ARGENTINA
Mendoza
Norton Reserva Malbec, Bodega Norton 54,00 €
Malbec
Altos del Plata, Terrazas de los Andes 45,00 €
Cabernet Sauvignon
USA
California
3 Finger Jack Old Vine Zinfandel,Delicato Family Wines 66,00 €
Zinfandel
NEW-ZEALAND
Marlborough
Mount Riley Pinot Noir, Mount Riley Wines 56,00 €
Pinot Noir
Sparkling wines, Champagne and Rose wines
Casa Canevel Prosecco DOC Brut, Italy 40,00 / 75cl
Jaume Serra Cava Brut, Spain 38,00 € / 75cl
Casa Canevel Prosecco Rosé Brut, Italy 48,00 € / 75cl
Zenato Lugana Brut Metodo Classico, Italy 65,00 € / 75cl
Veuve Clicquot, France  15,85 € / 12cl // 99,00 € / 75cl
Taittinger Comtes De Champagne Blancs Brut, France 235,00 € / 75cl
Dom Pérignon, France 300,00 € / 75cl
Zenato San Benedetto Rose, Italy 46,00 € / 75cl
Dessert wines
Dreissigacker Riesling Auslese, Germany 120 € / 75cl
Tommasi Recioto Valpolicella, Italy 66,00 € /37,5cl
Yarden Heightswine, Israel 67,00 € /37,5cl
Lakka Fortified väkevöity viini, Finland 51,00 € /75cl
Graham's Late Bottled Vintage Port, Portugal 71,25 € /75cl
Harvey's Bristol Cream Sweet Sherry, Spain 56,25 € /75cl
Uptaded 30.8.2022
Table reservation
You can use the reservations form below to book a table in our restaurant. Reservation will be valid when we have confirmed it to Your E-mail.