Ämmilä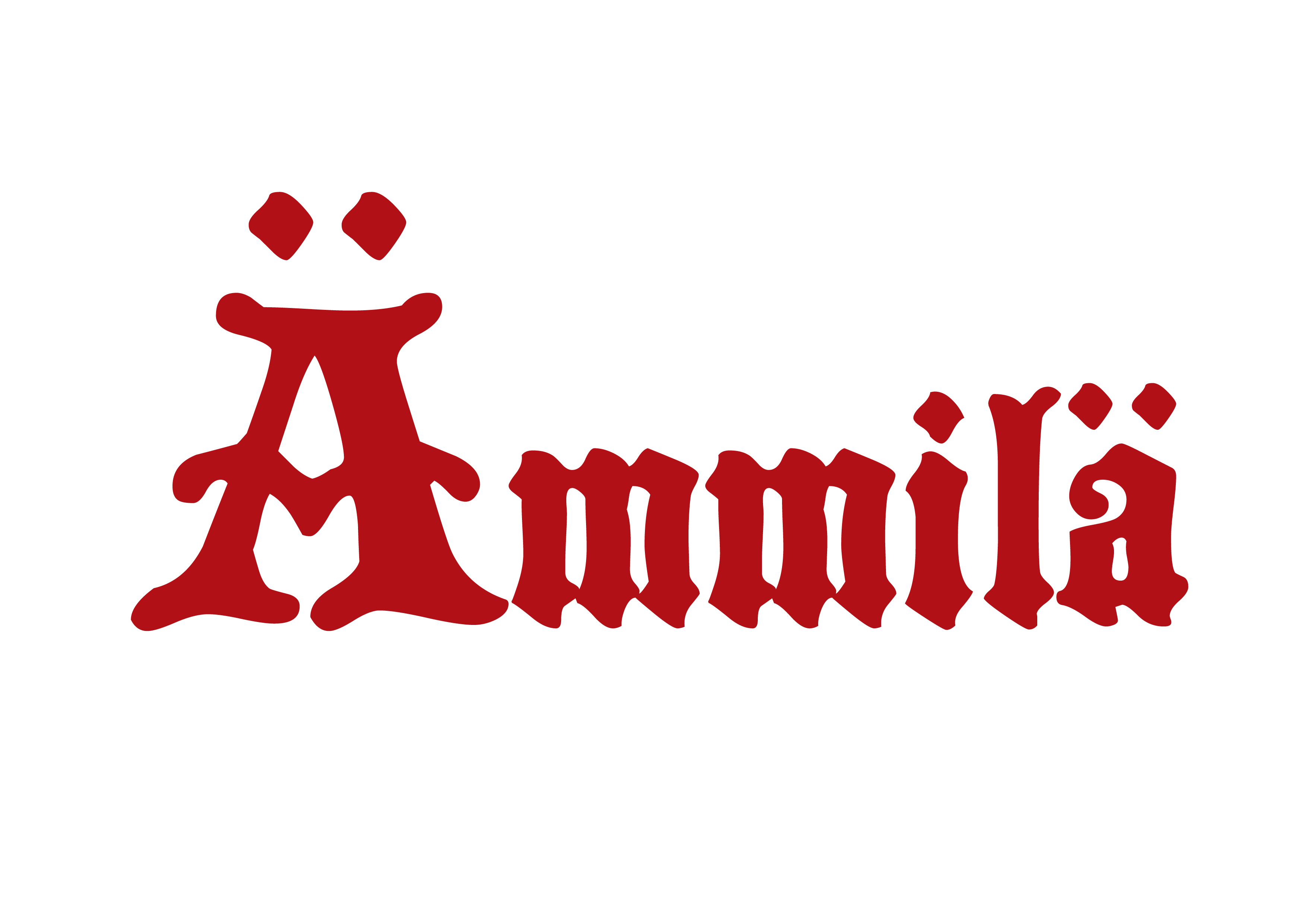 Restaurant Ämmilä
Traditional local food with a modern touch
Restaurant Ämmilä offers traditional local food with a modern twist since 2007. Over the years, the restaurant has become famous for its honest and authentic Laplandic á la carte menu as well as its home-cooked lunch buffet.
Traditional local food with a modern twist
Over the years, Restaurant Ämmilä in Levi has become famous for its honest and authentic Laplandic á la carte menu as well as its home-cooked lunch buffet.
The á la carte menu is based on guaranteed clean and excellent raw goods from producers in the nearby areas.
Depending on the season, the menu includes trapped willow grouse, game from nearby reindeer herder communities and fish in many different forms, not to mention Laplandic berries and the world's best puikula potato (almond potato) and more. The excellent wine list or a Hullu Poro schnapps will complement your dinner will make your experience perfect.
Lunch Buffet & Lappish Buffet
During lunch time Ämmilä serves 'home-cooked style' lunch buffet. On Sundays the buffet is served on a Lappish way, being a Lappish Buffet.
Served when the restaurant is open. Check opening hours below.
Lunch Mon – Sat from 11 to 15. Price 15 €
Lappish buffet Sundays from 11.00 to 15.00  Price 19 €
Starters: Sumptuous Salad Buffet, Bread and Spreads.
Main courses: Sautéed Game, Kammis Reindeer Sausage, Glow-Fried Salmon and Mashed Potatoes
Dessert: Bilberry Pie & Vanilla Sauce and Sweetened Lappish Berry Soup with Whipped Cream.
Rakkavaarantie 3, 99130 Sirkka, Suomi
Contact info
Tel. +358 16 6510 500
Address: Rakkavaarantie 5
Opening hours
Closed  11.4. – 10.6.2021
Untill  2.5. Hotel breakfast is served in Restaurant Ämmilä
Mon – Fri  7.00 – 10.00 / Sat – Sun klo 7.00 -10.30
Open from 11.6.
* Breakfast Mon – Fri  7.00 – 10.00 / Sat – Sun klo 7.00 -10.30
* Lunch Mon – Sat  11.00 – 15.00
* Lappish buffet sundays  11.00 – 15.00
* A la carte daily 15.00 – 23.00
hulluporo.fi/ravintolat/ravintola-ammila
Starters
Fermented turnip croquette served with matsutake miso broth, pickled shallots and chive 15,00 €
Fish from Lapland. Salmon 35°, pickled white fish, king crab crème, smoked vendace and vendace roe served with Puikula potato, dill mayonnaise, malted bread and butter 19,00 €
Traditional buckwheat blini served with hand peeled prawns, Skagen mayonnaise, marinated red onions and dill 15,00 €Extra blini 5,00 €
Added Vendace roe +8,00 €
Chicken liver mousse served with onion broth, chestnut and pickled mustard grains 15,00 €
Also vegan "foie gras" version available.
Grilled roast of reindeer served with pickle, wood sorrel, smoked parsnip purée and reindeer shank consommé 16,00 €
Ämmilä Snack Specials
Salad made with crispy salad leaves and shoots, roasted cauliflower, cherry tomatoes, mozzarella cheese and nut vinaigrette
• Naturel 15,00 €
• Grilled breast of chicken 19,00 €
Cheese burger with 150gr finnish beef patty, cheddar cheese,  crispy onion and truffle mayonnaise served with potatofries 18,00 €
Reindeer burger made with Lappish cheese, cranberry compote, crispy onion, forest mayonnaise served with potato fries 20,00 €
Main Courses
Vegan porcini mushroom ragu served with deep fried cauliflower and Baba Ganoush 24,00 €
Pan fried Arctic Char served with King Crab risotto and pickled crab 29,00 €
Roasted fillet of reindeer, fried breast of Snow Grouse and reindeer ragû served with fried mushrooms, onion and Puikula Potato 42,00 €
Pepper steak served with Puikula potatoes, pepper sauce and fried vegetables 35,00 €
Beef sirloin served with smoked reindeer -cream cheese fried vegetables and fries 28,00 €
Sautéed reindeer served with potato mash, lingonberries and pickled cucumber 28,00 €
Desserts
Smoked apple ice cream served with whisky caramel and almond frangipane 13,00 €
Cloudberry Crème Brulee 12,00 €
Chocolate and cranberry cake served with milk chocolate & mandarin ice cream 10,00 €
Lappish cheese with cloudberries and brown sugar cream 2,00 €
Ice cream and sorbets / Scoop 5,00 €
• Vanilla •  Blueberry-yogurt • Cookies • Green apple sorbet
Kid's list
1. Pan fried arctic char served with fried vegetables and mashed potatoes
2. Sauteed reindeer served with mashed potatoes,lingonberries and pickled cucumbers
3. Grilled chicken, fried vegetables and french fries
4. Burger & fries
All kid's portions 10 € / pcs
Children 3-12 years old
This is an example menu and some daily changes are possible, depending on the product availability.
White wines
France
Regnard Chablis Saint Pierre, De Ladoucette 78,00 €
Chardonnay
Comte Lafond Sancerre, De Ladoucette 85,00 €
Sauvignon Blanc
Pfaff Pinot Gris, La Cave des Vignerons de Pfaffenheim 48,00 €
Pinot Gris
Austria
Jurtschitsch Grûner Veltliner Stein, Kamptal 59,00 €
Grüner Veltliner
Luxenburg
Rivaner Premier cru Remich Primeberg 2017, Desom 51,00 €
Rivaner
Spain
Santiago Ruiz, Bodegas LAN, DO Rias Baixas 50,00 €
Albariño
Germany
Riesling vom Kalkstein, Pfalz 44,00 €
Riesling
Dr. Loosen Dr. L Riesling, Dr. Loosen, Mosel-Saar-Ruwe 48,00 €
Riesling
USA
Irony Monterrey Chardonnay, California 59,00 €
Chardonny
New-Zealand
Villa Maria Cellar Selection Riesling, Malborough 54,00 €
Riesling
Red wines
France
Châteauneuf-du-Pape Rouge, Xavier, Rhone, France 89,00 €
Grenache Noir, Mourvèdre, Syrah
Paul Mas Cabernet Sauvignon, France 44,00 €
Cabernet Sauvignon
Italy
Col di Sasso, Castello Banfi, IGT Toscana 39,00 €
Sangiovese, Cabernet Sauvignon, Merlot
Zenato Ripassa Valpolicella Superiore, Veneto, Italy 62,00 €
Corvina Veronese, Rondinella, Oseleta & Croatina
Tommasi Amarone, Della Valpolicella Classico, Tommasi, Veneto 110,00 €
Corvina Veronese, Corvinone, Oseleta, Rondinella
Gaja Ca´Marcanda, Angelo Gaja, Tuscany 230,00 €
Merlot, Cabernet Sauvignon, Cabernet Franc
Spain
Lan Reserva, Bodegas Lan, Rioja, Spain 69,00 €
Tempranillo, Mazuelo
Termanthia, Bodega Numanthia, Toro 250,00 €
Tinta de Toro
Argentina
Norton Reserva Malbec, Bodega Norton, Mendoza 54,00 €
Malbec
Chile
Don Melchor, Concha y Toro, Puento Alto 110,00 €
Cabernet Sauvignon
Ocio, Cono Cur, Casablanca Valley 97,00 €
Pinot Noir
USA
3 Finger Jack Old Vine Zinfandel, Delicato Family Vineyards 64,00 €
Zinfandel
New-Zealand
Villa Maria Private Bin Pinot Noir, Malborough 50,00 €
Pinot Noir
Champagne & Sparkling Wines
Val d'Oca Prosecco Extra Dry Argento, Italy 37,00 €
Martini Brut, Italy 40,00 €
Perelada Rosado Cava Brut, Spain 45,00 €
Zenato Lugana Brut Metodo Classico, Italy 65,00 €
Charles Heidsieck Réserve Brut, France 90,00 €
Mumm Cordon Rouge Brut 90,00 €
Jeeper Grand Rosé 99,00 €
Jeeper Grande Réserve Blanc de Blancs Brut / Róse, France 99,00 €
Taittinger Comtes De Champagne Blancs Brut 235,00 €
Dom Pérignon 260,00 €
Bardolino Chiaretto Rosé, Zenato, Veneto IGT, Italy 39,00 €
Corvina, Rondinella, Merlot
Table reservation
You can use the reservations form below to book a table in our restaurant. Reservation will be valid when we have confirmed it to Your E-mail.