Pub Hölmölä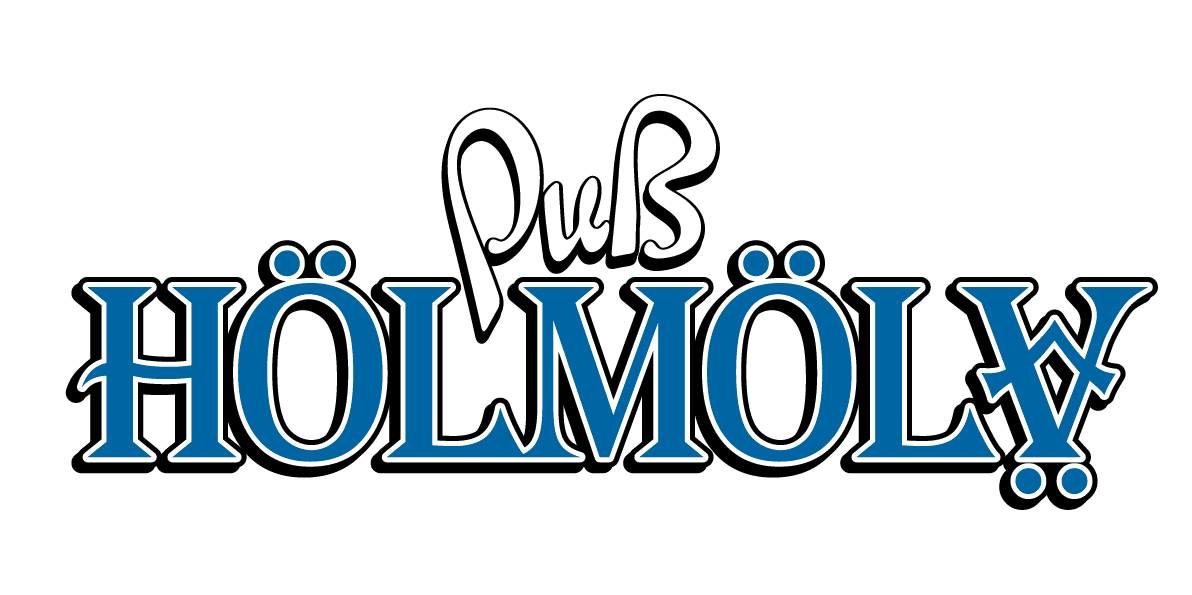 Pub Hölmölä
You are welcome as you are
Pub Hölmölä
Beer, food, live music
Pub Hölmölä
Board games, billiards, Nintendo… Bring your friends and find out who is the champion of the gang
New in season 2022-2023 – Available Mexican food
The simply fun and comic Pub Hölmölä serves at Levin Tori square from morning until late night.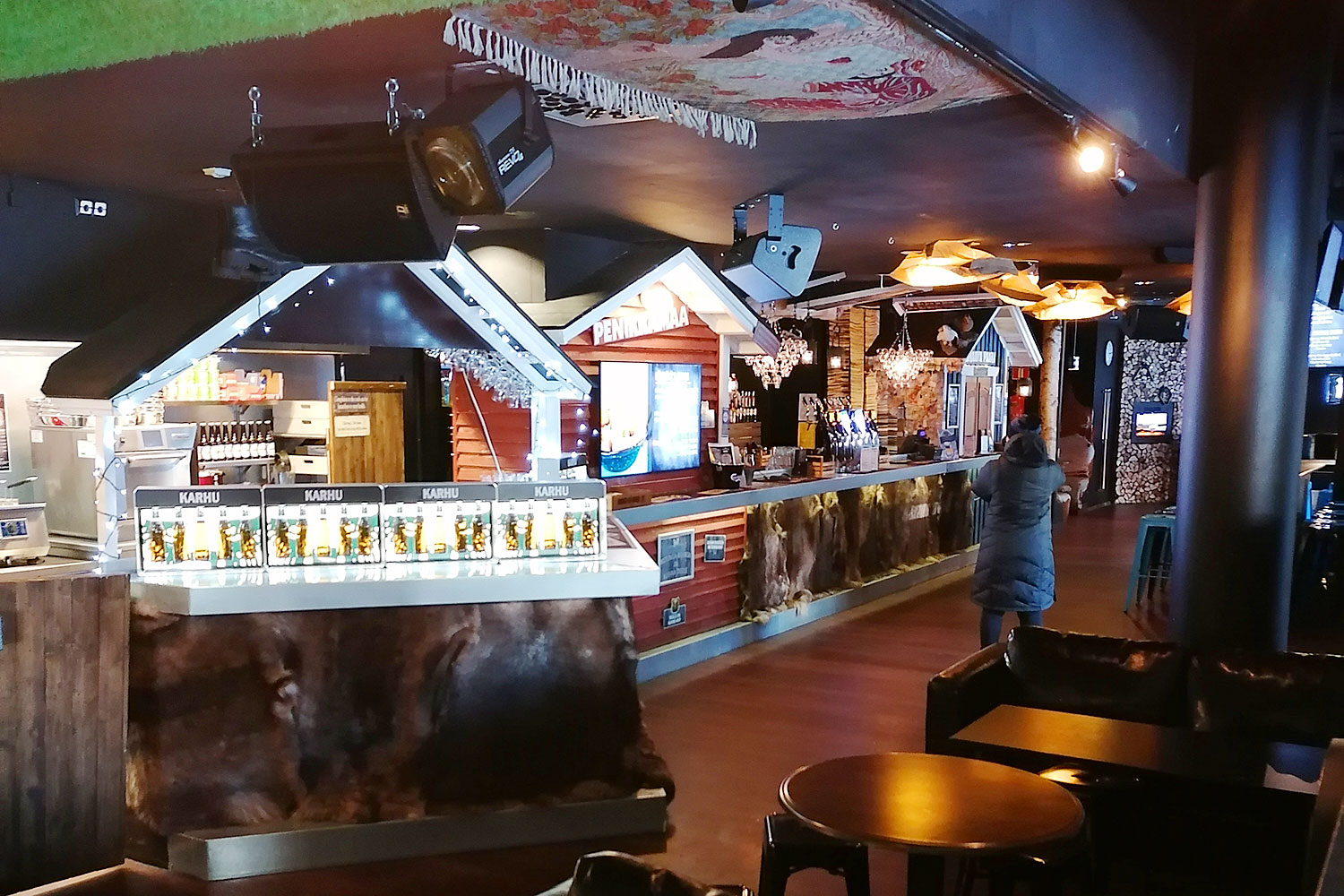 Funnies Pub in Lapland
Pub Hölmölä's idea is based on humorous Finnish folk tales of a village where the people see life and world in an upside manner, resulting in chaotic situations in everyday life.
In addition to our wide range of brews, we haul fruit from countries down south every week, and we are not afraid to use a blender. There's also some tasty pub food at Pub Hölmölä.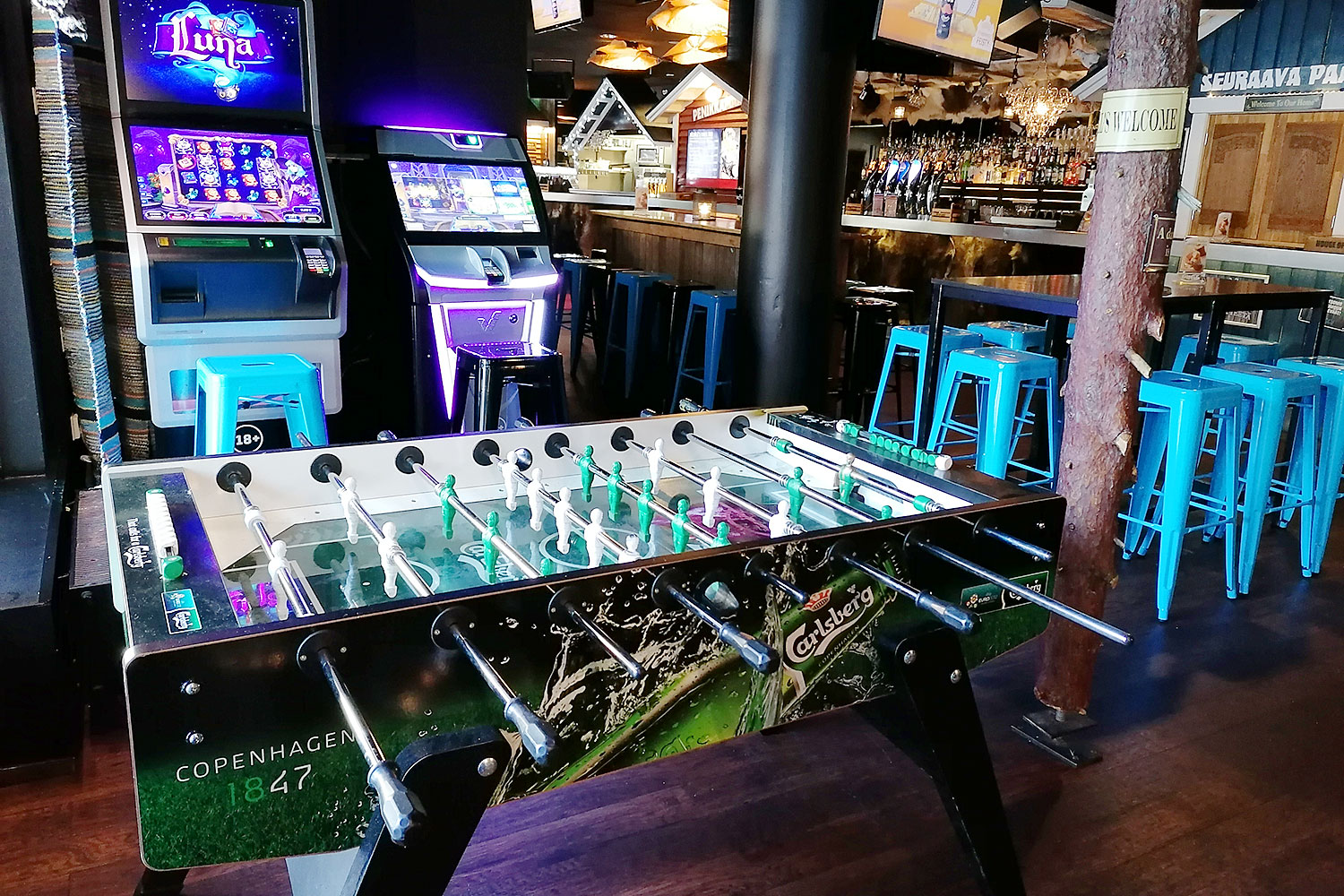 Games and funny staff
Board games, billiards, Nintendo… Bring your friends and find out who is the champion of the gang.
After you've put your skis on Hölmölä's ski racks and sat on the sauna benches, you can go crack a cold one and join in for a board game. However, if you think Scrabble and Alias are too much brain work, you can always try foosball or pool. Free of charge, of course!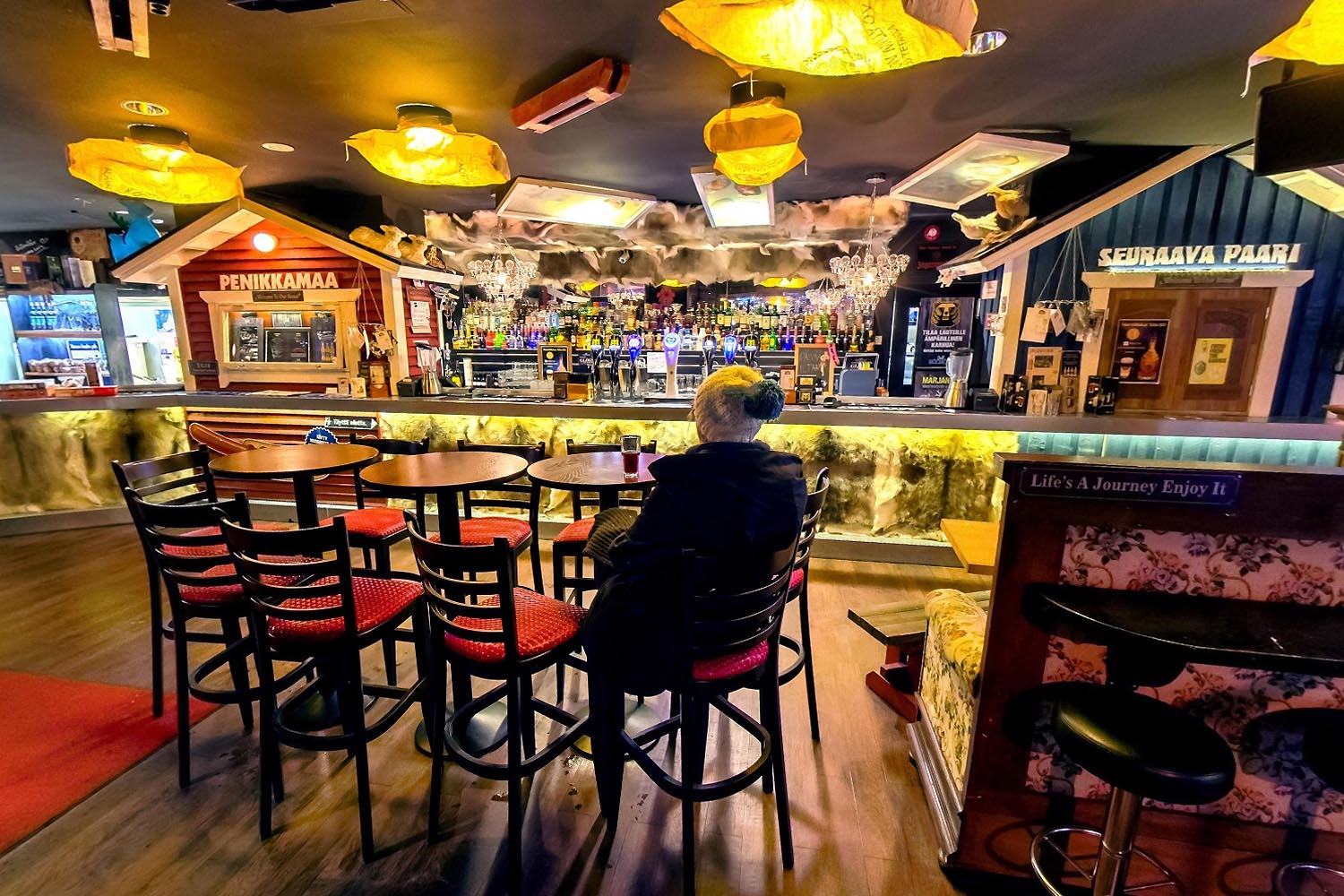 We are open daily!
In the pub you can find a sauna, Hölmölä Express Bus, billiard and other fun stuff. Occasionally we have live music and stand up performances. Drop in to enjoy tasty pub food and a nice pint of beer.
Contact
Tel. +358407148811 (during opening hours)

Pub Hölmölä is located in Levin Tori Square
Hiihtäjänkuja 10, 99130 Levi, Finland
Contact info
Tel. +358407148811
Address: Hiihtäjänkuja 10, FIN-99130Levi
Opening hours
Open 30.4. untill
Monday – Thurdays and Sunday 12.00 – 02.00
Friday – Saturday 12.00 – 02.00 (-04.00)
Northern Cowboy kitchen is open 12.00 – 23.00
Open 1.5.2023 12.00 – 02.00
Closed from 2.5.2023, Open again on September.
MENU
FIESTA SAMPLER
El Grande 36€
Hickory smoked pork
Chipotle seasoned chicken
Pepper & onion bake
Tortillas 8 pcs
Accompanied with nachos, jalapenos, pico de gallo salsa, guacamole and crème fraiche
NACHOS
REGULAR (vegan) 10€
Nachos / Pico di Gallo
CHEDDAR 12€
Nachos / Pico di Gallo / Cheddar
SMOKED PORK 15€
Nachos / Pico di Gallo / Cheddar / Smoked pork / Crème fraiche
Chicken or beef in stead smoked pork 17 €
EXTRA DIP 2€
Guacamole, crème fraiche, cheddar, blue cheese (3€), vegan chipotle aioli
QUESADILLAS
BBQ marinated jackfruit (vegan) 16€
BBQ marinated jackfruit / avocado / smoked vegan cheese
BBQ CHICKEN 16€
BBQ chicken / chipotle salsa / cheese
CHUCK ROLL BEEF 16€
Chuck Roll beef / jalapeno / cheese
Quesadillas are topped with salsa verde, spring onion and crème fraiche. Cashew sour cream for vegans
TACOS 3pcs
COWBOY CAVIAR (vegan) 13€
Cowboy Caviar salsa / pickled cactus / cashew sour cream / chili
CHIPOTLE CHICKEN 14€
Chipotle chicken / avocado
CHUCK ROLL BEEF 15€
Chuck roll beef / cheddar / jalapeno
REINDEER 16€
Reindeer / lingonberry / pickled cucumber
RIBS
Costillas a la Parilla 23 €
Half a kilo of roasted pork ribs served with green chili mole and cowboy caviar.
BURRITOS
Fermented bean stew (vegan) 16€
Fermented bean stew / chipotle peppers / cashew sour cream
CHICKEN 16€
Chicken / avocado / red onion
CHUCK ROLL BEEF 17€
Chuck Roll beef / jalapeno
REINDEER 18€
Reindeer / lingonberry / pickled cucumber
Burritos are filled also with lentils, kale, rice and pickled red onion
CHURROS 7€
• Cinnamon & sugar • Milk chocolate • Salty caramel
"Fries & Sausage" 13€
Fries / sausage / chili mayo / pickled cucumber salad / ketchup / mustard / cheddar
Update 25.1.2023

BEERS
From the tap
Karhu III 4,6% 0,5 l 8,50 €
Karhu III 4,6% 0,33 l 7,60 €
Kronenbourg Blanc 5% 0,5 l 9,90 €
OTHERS
Karhu 5,3% 0,33 l 8,50 €
Brooklyn  Bel Air Sour 4,5 % 0,33 l 9,80 €
Brooklyn  Defender IPA 5,5 % 0,33 l 9,80 €
Grimbergen Double- Ambree 6,5 % 0,33 l 9,20 €
Grimbergen Blonde 6,7 % 0,33 l 9,20 €
Duckstein Weizen 5,3% 0,5l 9,90 €
Brookvale Union Ginger Beer 4% 0,33l 8,80 €
Staropramen Dark Lager 4,4% 0,33 l 8,30 €
Staropramen Premium Lager 5% 0,33l 8,30 €
Hölmö IPA 5,4 % 0,33l 9,00 €
Lapin panimot olut 0,33l 9,00 €
*Vaihtuva valikoima / Selection varies
Poro Red Ale 5,2% 0,33l 9,00 €
Exclusively for Hullu Poro restaurants. Gluten-free
Tornion Panimo Original Lapland Lager 5,2% 0,33l 9,00 €
Tornion Panimo Hillatus Sour Ale 5,5% 0,33l 9,50 €
CIDERS
From the tap
Crowmoor 4,7% 0,4l 8,90 €
Somersby 4,5% 0,33l 8,00 €
Apple / Pear
Crowmoor Spritz Ananas 4,1% 0,33l 8,60 €
LONG DRINKS
From the tap
Lonkero 5,5 % 0,4 l 8,90 €
Lonkero 5,5 % 0,33l 8,00 €
Cranberry / Pink Grapefruit
Breezer 4% 0,275l 8,40 €
Cranberry / Pink Grapefruit
Sini Bilberry Longdrink 5,0 % 0,33l 9,50 €
Hilla Cloudberry Longdrink 5,0 % 0,33l 9,50 €
Varpu Crowberry Longdrink 5,0 % 0,33l 9,50 €