Pub Hölmölä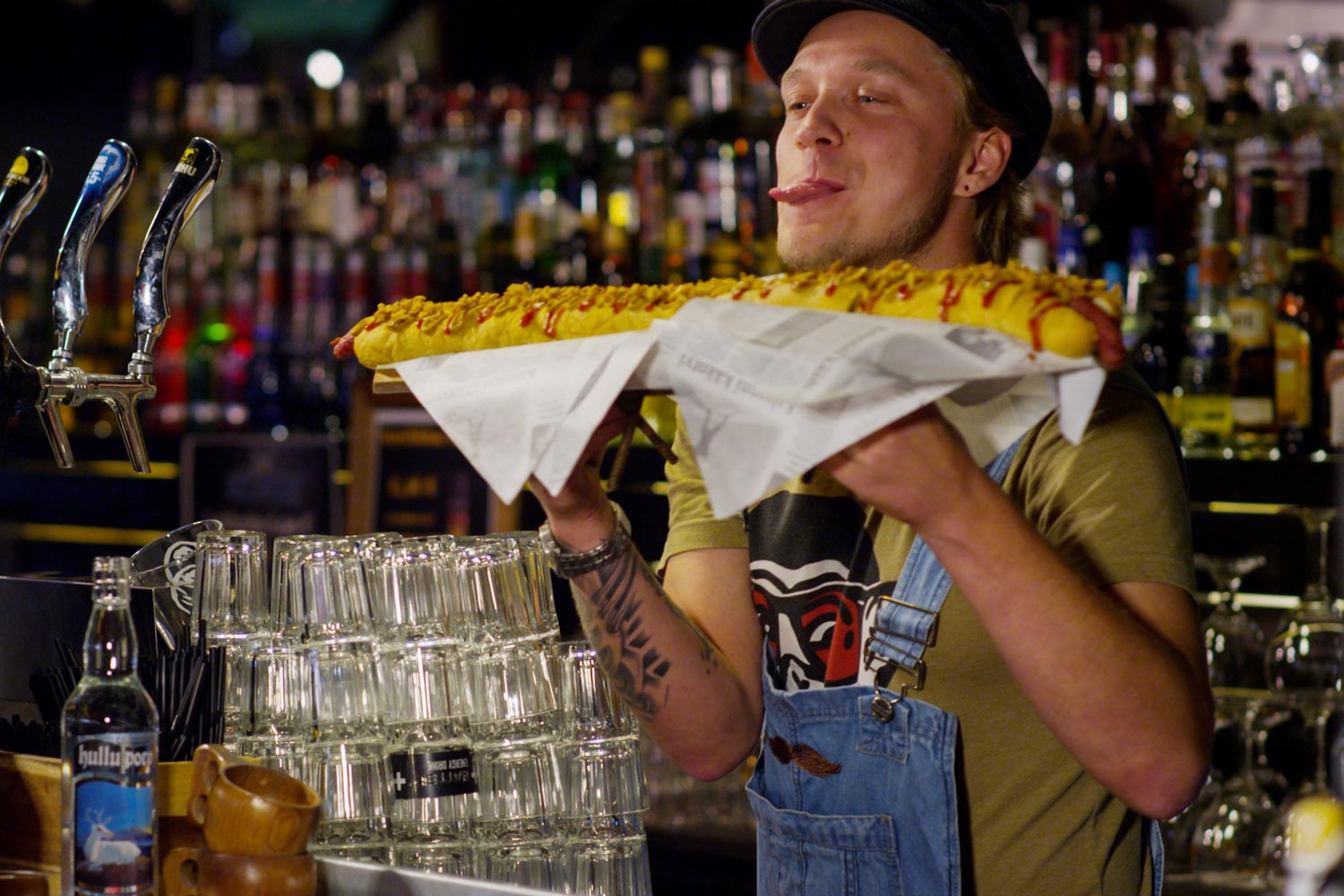 The simply fun and comic Pub Hölmölä serves at Levin Tori square from morning until late night.
Pub Hölmölä's idea is based on humorous Finnish folk tales of a village where the people see life and world in an upside manner, resulting in chaotic situations in everyday life. In the pub you can find a sauna, Hölmölä Express Bus, billiard and other fun stuff. Occasionally we have live music and stand up performances. Drop in to enjoy tasty pub food and a nice pint of beer.
Contact information
Tel. +358407148811 (during opening hours)

Pub Hölmölä is located in Levin Tori Square
Hiihtäjänkuja 10, 99130 Levi, Finland
Opening hours
Closed 29.9. – 31.10.2019
Open from 1.11.2019 – 
Every day 10:00 – 02:00 (- 04:00 am)
Pub Menu
Hölmölä special dot dog 40 cm     14,50 €
Burger  15,00 €
Beef / Chicken / Veggie         
Pretzel bun, salad, red onion, tomatoes, pickles, Hellmann´s Real mayonnaise and French fries
Extra fillings 1,90 € / each
Cheddar / bacon / blue cheese / fried egg / chili
Hölmölän Combo Plate 15,90 €
Mozzarella sticks, onion rings, jalopeno poppers, chicken sticks.
nachos, salsa ja onions.
Hölmölän Nacho Plate 13,90 €
Nachos, salsa, onion and cheese
Delicacies basket 13,90 €
French fries, sausages, onion rings and hicken sticks
Onion basket   10,90 €
Sausaga basket 11,90 €
Chicken basket 12,90 €
Nachos & salsa       6,00 €
Sausage mug      7,50 €
4 pcs long sausages
Onion rings
6 pcs / 6,00 €
10 pcs/ 9,90 €

Mozzarella sticks
6 pcs / 8,00 €      
10 pcs / 12,90 €
Chicken sticks
3 pcs / 5,90 €
6 pcsl 10,50 €    
10 pcs 14,50 €
Jalopeno poppers
6 pcs  8,20 €
10 pcs / 12,90
Wings
8 pcs / 8,90 €     
16 pcs / 15 €    
24 pcs / 21,70 €
Fish & chips 13,90 €
Pizza slice 7,90 €
French fries  7,90 €
Sweet potatoes fris 7,90 €

Dibs 1,50 €
House mayonnaise, chili, gaslic, remoulade, mango
Milk shakes 8,50 €
Raspberry / strawberry / mango
Ice cream and marshmallows 9,90 €
Kartta