Pihvipirtti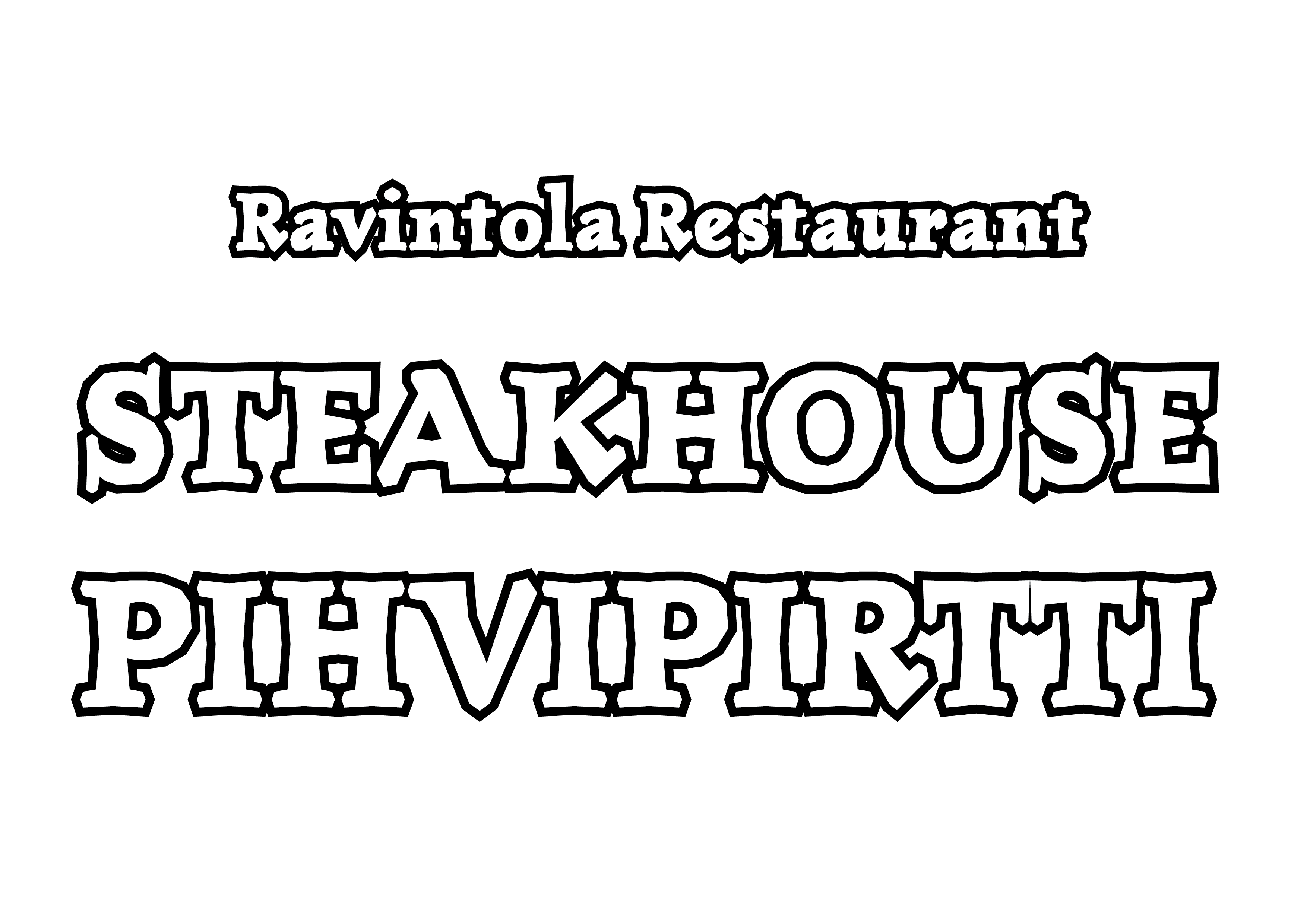 Never been to Levi before? Why not start as so many have for years. The dinner in Restaurant Pihvipirtti (Steakhouse) has become a tradition for so many.
Steaks of your choice
Since Valentine's Day 1999, this homely restaurant has been a sanctuary for those who love an honest steak.
But Pihvipirtti is not famous only for the delicious steaks. The dinner starts with an appetizing cold buffet including fish and seafood selection, and ends with mouth-watering home-made pannacotta. The most important part of the dinner, the steak served with sauce and potatoes on side, can be chosen from two sizes and different meats.
Fish delicacies from the ice buffet
Night after night people flock to Pihvipirtti for the fish delicacies and the delicious steaks, and the wine list always offers a few surprises. Steakhouse always makes friends with those who love good food and wine.
Contact info
Tel. +358407148855
Address: Hissitie 10, FIN-99130 Levi
Opening hours
Open 10.4. – 30.4.2023
Daily 18.00 – 23.00
17.4. closed
Closed from 1.5.2023, Open again on September
Steakhouse dinner
Starters
Fish Delicacies from Ice Buffet
Main Course
Steak of Your Choice À la Steakhouse:
Reindeer (Finland)
Lamb (New Zeland)
Beef (Finland)
Choice of sauces
Tatti mushrooms sauces
Pruce Bud – Game sauce
Peppered sauce
Bérnaise Mousse
Garlic Mousse
Seasoned Butter À la Steakhouse
Steakhouse potatoes
Baked Potato
Country Style Wedge Fries
Old Style Garlic Potatoes
All steaks are served with season's vegetables.
As a dessert
Steakhouse's Pannacotta
Price

Dinner, Steak 150g  65,00 €
Dinner, Steak 200g  73,00 €
Dinner, Homemade Vegetarian Patty (140g)  49,00 €
Fish Delicacies from Ice Buffet 39,00 €
Steak 150g of Your Choice 36,00 €
Steak 200g of Your Choice 45,00 €
Homemade pea protein & vegetable patty (140g) 24,00 €
Dessert 6,00 €
Kid's menu
Dinner, steak 75 g  27,00 €
Sausage-meatball skewer with chips 10,00 €
Minute steak with chips 13,00 €
Scoop of vanilla ice cream 5,00 €
Update 26.8.2022
Red Wines
Casal Garcia Douro 39,00 € / btl
Portugal, DOC Diouro
Touriga Nacional, Tinta Roriz, Touriga Franca, Tinta Barroca
Cono Sur Single Vineyard Block 28 Carmenere 48,00 € / btl
Carmenère
Chile. Cahcapoal Valley Shiraz
Noble Vines 667 Pinot Noir 58,00 € / btl
USA. California
Pinot Noir
Coto de Imax Reserva 59,00 € / btl
Spain, Rioja
Tempranillo
Terrazas Altos del Plata Malbec 64,00 €
Argentiina, Mendoza
Malbec
3 Finger Jack Old Vine Zinfandel 66,00 € / btl
USA
Zinfandel
Into The Woods GSM 68,00 € / btl
France, Languedoc
Syrah 60%, Mourvèdre 35%, Grenache Noir 5%
Perelada 5 Finques Reserva 72,00 € / btl
Spain, Do EmpordàMerlot 40%, Garnacha 20%, Cabernet Sauvignon 15%, Syrah 15%, Samsó 10%
Guigal Saintes Pierres de Nalys Châteauneuf-du-Pape 100,00 € / btl
France, Rhone
Grenache Noir, Mourvedre, Cinsault, Syrah
Zenato Amarone della Valpolicella DOC Classico  115,00 € / btl
Italy, Veneto
Corvina Veronese 80 %, Rondinella 10 %, Oseleta & Croatina 10 %
Don Melchor 125,00 € / btl
Chile, Puento Alto
Cabernet Sauvignon
White wines
Casal Garcia Douro 39,00 € / btl
Portugal, Vinha Vende
Azal, Loureiro, Pederna, Trajadura
Dal Cero Ramato Pinot Grigio 48,00 € / btl
Italy, Veneto
Pinot Grigio
That's Neiss Pink Riesling 51,00 € / btl
Germany, Pfalz
Riesling, Pinot Noir
Villa Wolf Gewürztraminer 52,00 € / btl
Germany, Pfalz
Gewürztraminer
Anselmo Mendes Muros Antigos Alvarinho 57,00 € / btl
Portugal, Vinho Vede
Alvarinho
Mayer Landhaus Grûner Veltliner 63,00 € / btl
Austria, Kamptal
Grûner Veltliner
Plan B Dry Riesling 64,00 € / btl
Australia, Western
Riesling
Lenzmark New Chapter 100,00 € / btl
Austria, Niederösterreich
Grüner Veltliner
Regnard Chablis 1er Cru Fourchaume 135,00 € / btl
Ranska, Chablis
Chardonnay
Rosé wine
Zenato San Benedetto Rose 46,00 € / 75cl
Italy
Rondinella, Cabernet Franc, Pinot Nero
Sparkling wines
Casa Canevel Prosecco DOC Brut 6,40 € / 12 cl  40,00 € / 75 cl
Italy. Glera
Jaume Serra Cava Brut 38,00 € / 75 cl
Spain. Macabeo 50%, Parellada 35%, Xarel lo 15%
Casa Canevel Prosecco Rose 48,00 € / 75 cl
Italy. Glera, Pinot Noir
Champagnes
Veuve Clicquot 15,85 € / 12 cl  99,00 €  / 75 cl
Veuve Clicquot Rose 130,00 €/ 75cl
Dom Perignon 300,00 €  / 75 cl

Krug Vintage 2004 335,00 €  / 75 cl
Krug Rosé 485,00 €  / 75 cl
Dessert wines
Dreissigacker Riesling Auslese 120,00 € / 75 cl
Germany, Rheinhessen
Riesling
Brännland Iscider 70,00 € / 37,5 cl
Sweden
Tommasi Fiorato Recioto Della Valpolicella Classico 2017 66,00 € / 37,5 cl
Italy
Corvina Veronese, Molinara, Rondinella
Graham's LBV Port 71,25 € / 75cl
Portugal
Tinta Barocca, Tinta Roriz, Tinta Cão, Touriga Franca, Touriga Nacional
Update 21.2.2023