Steakhouse Restaurant Pihvipirtti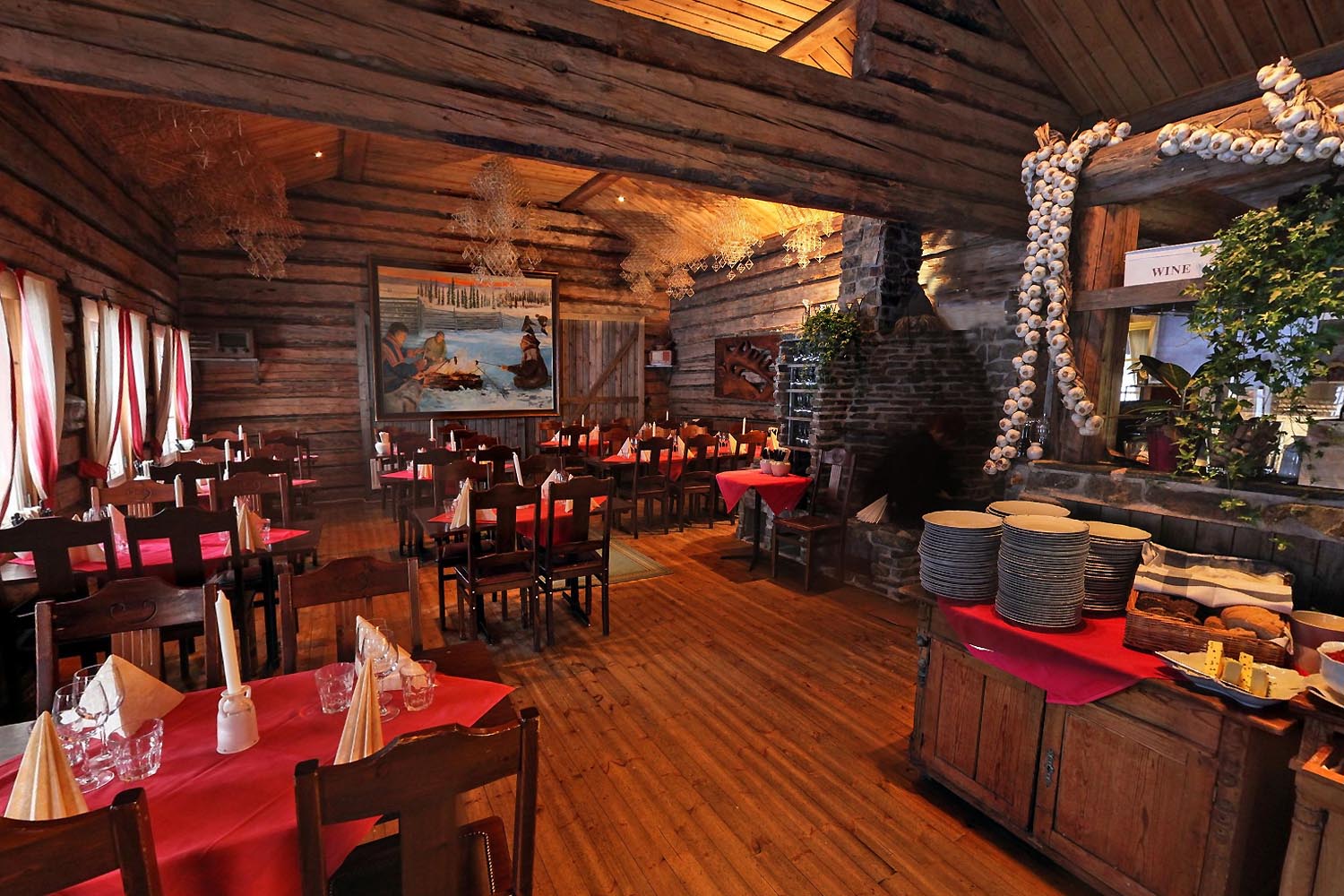 Restaurant Pihvipirtti (Steakhouse) feeds your heart's desire
Never been to Levi before? Why not start as so many have for years. The dinner in Restaurant Pihvipirtti (Steakhouse) has become a tradition for so many.
Since Valentine's Day 1999, this homely restaurant has been a sanctuary for those who love an honest steak.
But the Steakhouse is not famous only for the delicious steaks. The Steakhouse dinner starts with an appetizing cold buffet including fish and seafood selection, and ends with mouth-watering white-chocolate mousse. The most important part of the dinner, the steak served with sauce and potatoes on side, can be chosen from two sizes and different meats.
Night after night people flock to Pihvipirtti for the fish delicacies and the delicious steaks, and the wine list always offers a few surprises. Steakhouse always makes friends with those who love good food and wine.
Contact information
Restaurant Pihvipirtti
Hissitie 10
99130 Sirkka
Restaurant opening hours Tel. +358407148855
Reservation
Table reservation tel. +358166510500
Opening hours
Steakhouse dinner
Starters
Fish delicacies from ice buffet
Main Course
Steak of your choice á la Steakhouse:
Reindeer, lamb, beef
Choice of sauces
Creamed chanterelles, 
Sprude bud - game sauce,
Peppered sauce, 
Bernaise mousse,
Garlic mousse
Seasoned butter á la Steakhouse
Steakhouse potatoes
Baked potato, Country style wedge fries, Old style garlic potatoes
All steaks are served with season´s vegetable
As a dessert
Steakhouse's pannacotta
Prices from 1.9.2019
Dinner, steak 150g 51,00 €
Dinner, steak 200g 56,00 €
Dinner, vegetable skewer 43,00 €
Fish delicacies from ice buffet 28,00 €
Steak 150g of your choice 31,00 €
Steak 200g of your choice 33,00 €
Vegetable skewer 23,00 €
Dessert 6,00
Kid´s menu
Dinner, steak 75 g 24 ,00€
Sausage-meatball skewer with fries 9,00 €
Leaf steak with fries 12,00 €
Vanilla or chocolate ice cream 3,00 €
RED WINES
Santa Julia Organica Malbec 39,00 € / btl
Argentina. Mendoza Malbec
Tabali Reserva Carmenère 46,00 € / btl
Chile. Maipo Valley Carmenère
Lan Reserva 2011 59,00 € / btl
Spain. Tempranillo 92%, Graciano 8%. Rioja
Trivento Golden Reserve 62,00 € / btl
Argentina. Mendoza Malbec
Luján  de Cuyo
3 Finger Jack Old Vine Zinfandel 64,00 € / btl
USA. Zinfandel
Roussillon 
Villa Maria Cellar Selection 67,00 € / btl
New Zealand. Pinot Noir
Malborough
Mas Bécha Barrique Rouge 68,00 € / btl
Syrah 70%, Mourvèdre 15%, Grenache Noir 15%
France. Roussillon.
Perelada 5 Finques Reserva 72,00 € / btl
Spain. Merlot 40%, Garnacha 20%, Cabernet Sauvignon 15%, Syrah 15%, Samsó 10% Do Empordà
Xavier Chateaunef-du-Pape Rouge 89,00 € / btl
France. Rhone. Grenache 55%, Mourvèdre 35%, Syrah 10%
Don Melchor 110,00 € / btl
Chile. Puento Alto Cabernet Sauvignon
Zenato Amarone della Valpolicella DOC Classico 110,00 € /btl
Italy Corvina Veronese 80 %, Rondinella 10 %, Oseleta & Croatina 10 %
Veneto
WHITE WINES


Santa Julia Organica Chardonnay 39,00 € / btl
Argentina. Mendoza Chardonnay
Chateau Ste Michelle Riesling 43,00 € / btl
USA. Washington state. Riesling
Villa Maria Private Bin Sauvignon Blanc 46,00 € / btl
New Zealand. Sauvignon Blanc
Malborough 
Zenato Pinot Grigio 47,00 € / btl
Pinot Grigio
Italy. Veneto 
Abadia Albariño 50,00 € / btl
Spain. Albariño. Riax Baixas
Pfaff Geqürztraminer 53,00 € / btl
France Gewürztraminer Alsace
Biohof Pratsch Grüner Veltliner 55,00 € / btl
Austria. Grüner Veltliner Weinviertel
Anselmann Riesling Spätlese Trocken 61,00 € / btl
Germany Riesling Pfalz
Comte Lafond Sancerre 85,00 € / btl
France. Sauvignon Blanc
Loire 
Chablis Pic 1er Cru 168,00 € / btl
France Chardonnay Bourgogne


ROSÈ WINE 

Zenato Bardolino Chiaretto Rose 39,00  € / plo
Italy Corvina 65 %, Rondinella 25 %, Merlot 10 %
SPARKLING WINES
Cava Jaume Serra Organic Brut 6,00 € / 12 cl  37,00 € / 75 cl
Spain Macabeo 100 %
Martini Brut 6,50 €/ 12 cl  40,00 €/ 75 cl
Italy Chardonnay, Glera
Perelada Rosado Cava Brut 45,00 € / 75 cl
Spain Garnatxa 74%, Pinot Noir 18%, Trepat 8 %
DO Cava
La Jara Organic Prosecco Brut 45,00 € / 75 cl
Italy Glera 100%
CHAMPAGNE
Charles Heidsieck Brut Réserve 14,50 € /  12 cl    90,00 €/ 75 cl

Mumm Cordon Rouge Brut 96,00 € / 75 cl

Jeeper Grande Réserve Blanc de Blancs Brut 99,00 €/ 75 cl

Jeeper Grand Rosé Brut 99,00  € / 75 cl
1998 Veuve Cliquot La Grande Dame 310,00  € / 75 cl
2002 Krug Vintage 315,00  € / 75 cl
Krug Rosé 455,00  € / 75 cl
DESSERT WINES

Austria Lenz Moser Prestige Trockenbeerenauslese 52,00 €/ 37,5 cl
Burgenland Bouvier, Chardonnay, Muskat Ottonell, Neuburger, Welschriesling
Canada Red Leaf Vidal Ice Wine 55,00  €/ 37,5 cl
Canada Vidal 100 %