Wanha Hullu Poro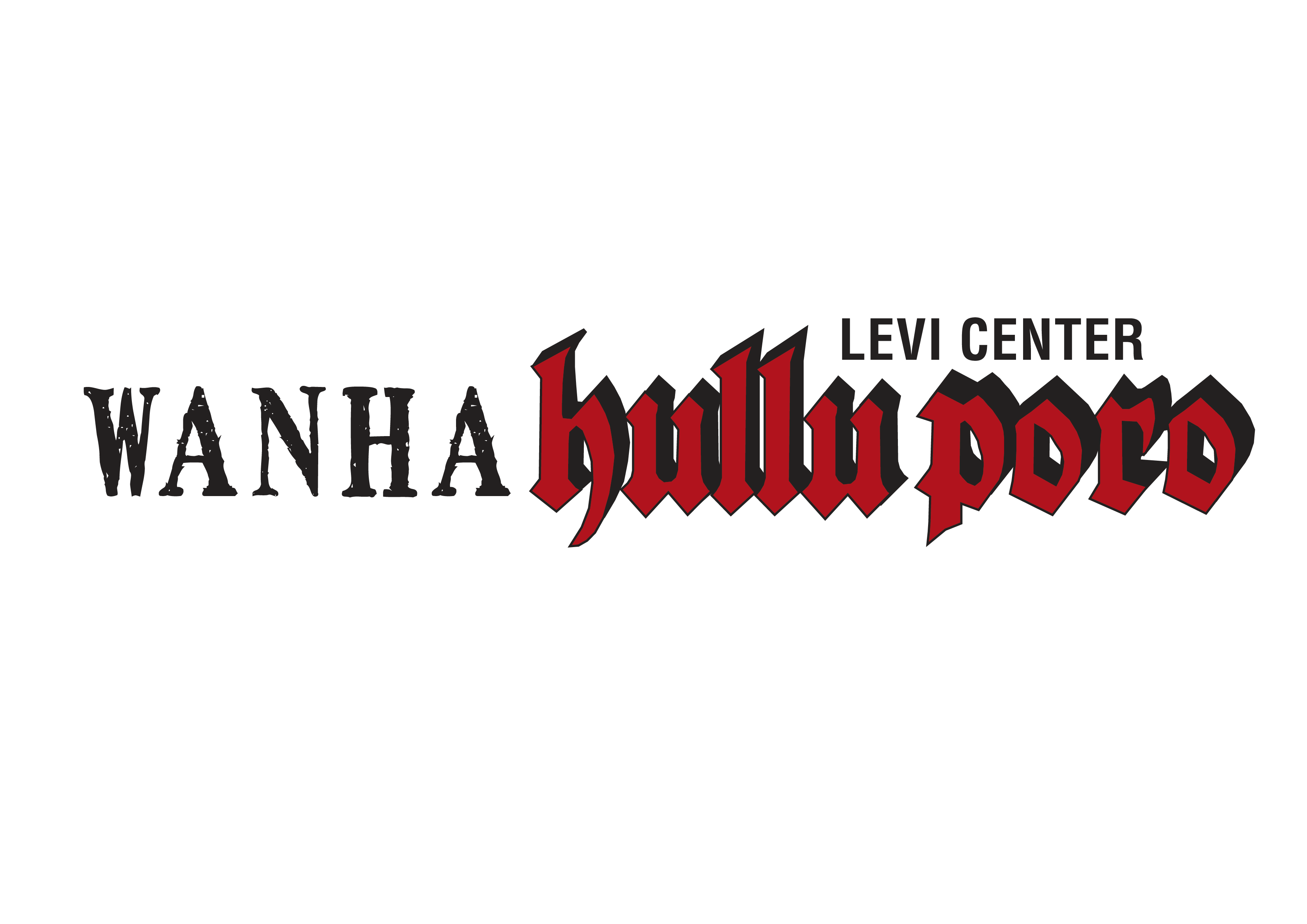 The legendary and perhaps the best known restaurant in Levi.
Succulent meat and tasty burgers
A genuine Kopa® charcoal oven sits at the heart of our kitchen where we barbecue our meat at temperatures up to 450 degrees Celsius. Our menu offers a wide selection of burgers, as well as meat made an open flame that will melt in your mouth. Come and taste our Northern Fried chicken dish or try the tastiest Reindeer Burger in the North.
As a novelty, daily at 14.00 . 17.00, available Soul Food Buffet, which offers a wide selection of food.
In the buffet, e.g. coleslaw salad, alternately kebab, burgers or hot dogs and ice cream.
The price of the buffet is 19,90 € / over 12 years old, and 3-12-year-olds. -50%. Children under 3 free of charge.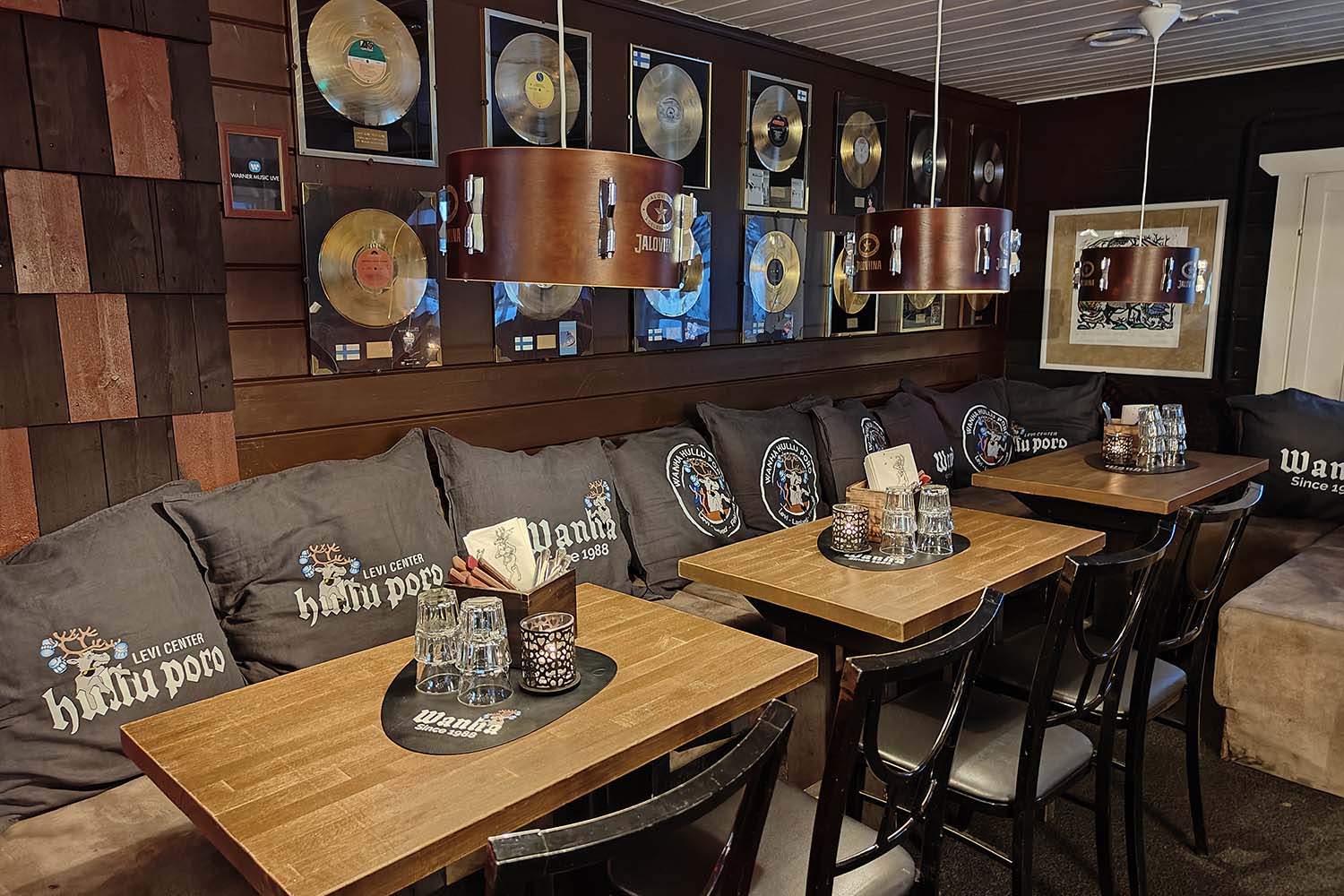 Put your hands up in the air!
The DJ plays the latest hits on the charts, songs you want to hear, and songs you can sing karaoke!
The rhythmic music and a giant disco ball get party people to stand up from their tables and head to the dance floor where the skilled DJ plays records. the Mixologist mixes the cocktails into tall glasses behind the bar counter. The atmosphere is rising and there's no end in sight.
Wanha Hullu Poro is one of Hullu Poro's nightclubs in Levi. Our thematic nights offer a different programme that leaves no one cold. If you feel compelled to use your vocal cords, you can sing songs you want at the karaoke bar.
The nightclub and restaurant is designed to be a celebratory space for everyone who wants to enjoy life The nightclub is known as the ski after-party venue, also offers facilities for private use. You can throw an exclusive wedding or birthday party at Wanha Hullu Poro.
They welcome their party people every night starting at 10:00 pm.
Contact info
Tel. +358407148891
Address: Rakkavaarantie 5, FIN-99130 Levi
Opening hours
Open 29.11. – 24.12.2024
Sunday – Wednesday 14.00 – 23.00
Thursday – Saturday 14.00 – 04.00
Buffet daily 14.00 – 17.00
À la carte daily klo 14.00 – 22.30
Open 25.12.2023 – 6.1.2024
Daily 14.00 – 04.00
Buffet daily 14.00 – 17.00
À la carte daily 14.00 – 22.30
Open  7.1.2024 – 11.2.2024
Sunday – Wednesday 14.00 – 23.00
Thursday – Saturday 14.00 – 04.00
Buffet daily 14.00 – 17.00
À la carte daily 14.00 – 22.30
Menu 2023-2024
NORTHERN FRIED CHICKEN WINGS (L, G)
8 pcs 10,80 €
12 pcs 14,20 €
18 pcs 18,90 €
24 pcs 27,40 €
The best quality chicken wings and drummets served with homemade Wings of Love Sauce, carrot and cucumber sticks and blue cheese dipBANGKOK SHRIMP BOWL  (L) 16,50 €
Torpedo shrimps served with gem lettuce, spring onion and crispy chili mayonnaiseESGARGOTS (L) 15,00 €
Snails sautéed in garlic butter and gratinated with blue cheese, served with sour dough bread
Also available vegan option: with sautéed button mushrooms gratinated with vegan cheese from the Porlammi farm

CAULIFLOWER WINGS (L, G) 12,00 €
Cauliflower wings served with carrot and cucumber sticks and vegan aioli

Fried crispy chicken &banana ketchup (L, G) 14,50 €
Bowl full of crispy fried chicken served with banana ketchup and spring onion

CAESAR CHICKEN SALAD (L) 18,50 €
Grilled chicken thighs, crispy salad leaves, Caesar dressing, Parmesan cheese and croutons
BURGERS
Burgers are served with Martin's potato bun and fries.
CHEDDAR & BACON 19,00 €
Beef patty (140g), cheddar cheese, bacon, gem lettuce, onion, pickled cucumber, tuned ketchup and Dijon mayonnaise
CRISPY CHICKEN 19,00 €
Corn breaded chicken, gem salad, pickled jalapeno, onion, lime leaf mayonnaise and sweet & spicy sauce
PULLED PORK 20,00 €
Beef patty 140g, pulled pork, gem lettuce, pickled cucumber, onion and Dijon mustard
CRAZY REINDEER 21,00 €
Reindeer patty (140g), Lappish cheese, cranberry jam,gem lettuce,pickled cucumber and aioli
HIPPIE – NO BEEF 19,00 €
Vegan brioche bun, plant protein patty, gem salad,soy & chili cucumber, onion, vegan aioli and sweet & spicy sauce
DIPS:
Garlic // Chili // Blue cheese // Sour cream // Buffalo mayonnaise // Hellman's mayonnaise
2 € / pcs
Extra patty +6,00 €
Gluten-free bun +1,50 €
MAIN COURSES
CRAYFISH SOUP (L) 17,50 €
Creamy crayfish soup gratinated with lamb milk cheese and served with sour dough bread
REINDEER KEBAB SKEWER (L) 18,00 €
Reindeer kebab skewer served with Manakish bread, pickled red cabbage and spruce pud yougurth
KOREAN BBQ RIBS (L, G) 29,00 €
Half a kilo of pork ribs glazed with Korean bbq sauce served with cole slaw salad, soy-chili pickled cucumbers
PEPPER STEAK 2.0 29,50 €
Beef steak (200g) grilled on open fire served with pepper sauce, 'Nduja butter and fries
CRAZY REINDEER WHISKY STEW (L, G) 31,00 €
Stew made with Sauteed reindeer, caramelized onions and Tennessee whisky served with our legendary mashed potatoes, fermented cucumber and lingonberries
BBQ PLATTER (L) 29,00 €
Smoked over cooked angus beef brisket, BBQ pulled pork and grilled wild boar sausages served with pickled red cabbage and coleslaw
Club Sandwich (L) 16,00 €
Grilled sour dough bread, roasted chicken, bacon, mayonnaise, tomato and gem salad leaves
Tuna Melt Sandwich (L) 16,00 €
Grilled sourdough bread, tuna mayonnaise, lamb milk cheese, tomato and pickled cucumber
SIDE ORDERS
Fries with fried moss 4,50 €
Fries (vegan, G) 4,00 €
Cheddar & jalapeno fries (L, G) 6,00 €
Coleslaw (vegan, G) 5,00 €
Green salad (vegan, G) 5,00 €
Grilled corn on a cob with nduja butter, oregano and Parmesan cheese (L, G) 5,50 €
Pickled red cabbage & cucumber (Vegan, G) 5,00 €
DESSERTS
Apple pie (L) 11,00 €
Served with vanilla ice cream and salty caramel crumble
LEMON POSSET (L, G) 10,00 €
Feather light lemon posset served with crispy chocolate
Ice cream from the buffet served with sauce of your choice and sprinkles 6,00 €
KID'S MENU
Burger or chicken burger with fries
Burgers served with ketchup, salad and tomato
Chicken Basket
Deep fried chicken thigh, fries and plain mayonnaise
Torpedo shrimps
Torpedo shrimps served with salad, plain mayonnaise and fries
12,00 € / pcs
Update 28.11.2023
Kuohuviinit
Jaume serra cava brut 40 € / 75 cl
Casa Canevel Prosecco Brut 45,00 € / 75cl
Casa Canevel Prosecco Rose Brut 50,00 € / 75cl
Champagnes
Charles Heidsieck Brut Réserve 99 € / 75 cl
Veuve Clicquot Brut 109 € / 75 cl
Dom Perignon 340 € / 75 cl
Dessert Wines
Dreissigacker Riesling Auslese 12,80 € / 8cl
Riesling. Germany.
Lakka väkevä viini 6,00 € / 8 cl
Cloudberry. Finland
White Wines
Deep Roots Organic Rivaner 8,32  € / 16 cl  39,00 € / 75cl
Rivaner. Germany.
Casillero Del Diablo Chardonnay 8,32 € / 16 cl   39,00 € / 75cl
Chardonnay. Chile
Nederburg 56 Hundred Chenin Blanc 9,60 € / 16 cl 45,00 € / 75cl
Chenin Blanc. South Africa
Cono Sur Single Vineyard Block 23 Riesling 55,00 € / 75cl
Riesling. Chile
Jurtschitsch Stein GrÜner Veltliner  61,00 € / 75cl
Grüner Veltliner. Austria. ORGANIC
Red Wines
Casillero del Diablo Shiraz 8,35 €/ 16 cl 39 € / 75cl
Shiraz. Chile.
Nederburg Winemasters's Edelrood 9,60 € / 16cl  45,00 € / 75cl
Cabernet Sauvignon, Merlot. South Africa.
Norton Reserva Malbec 11,50 € / 16cl   54,00 € /  75cl
Malbec. Argentina.
3 Finger Jack Old Vine Zinfandel 14,08 € / 16cl   66,00 € 75cl
Zinfandel. USA.
Coto de Imaz Gran Reserva 82,00 € / 75cl
Tempranillo. Spain.
Guigal Saintes Pierres de Nalys Chateuneuf-du-Pape 100,00 € / 75cl
Cinsault, Grenache Noir, Mourvédre, Syrah. France.
Updated  28.11.2023